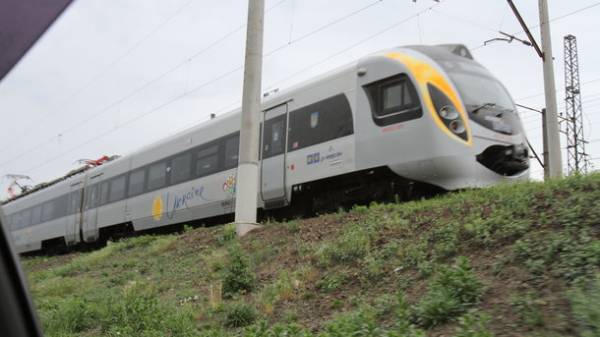 Ukrzaliznytsia (UZ) has changed the schedule of some trains due to the introduction of intercity trains No. 715/716 Kiev — Przemysl. This was reported by the press service of the UZ.
So, 24 Aug canceled the running of train No. 747/748 . — Lviv.follows Vinnitsa, Khmelnitsky and Ternopil. "However, passengers continue to travel to these cities by train No. 715/716 Kiev — Przemysl", – noted in UZ.
The new train to Przemysl will depart from Kyiv at 06:52 and arrive in Przemysl in 15:05. Back the train will depart from the station in Przemysl 13:07 and arrive in Kyiv at 23:10. He will follow in Vinnytsia, Khmelnytsky, Ternopil and Lviv.
In addition, for the period from 24 August to 9 December BONDS changes the timetable of trains No. 705/706 Kiev — Przemysl. So, it will depart from Kyiv at 06:00 and arrive in Przemysl in 12:37 with stops at stations Sviatoshyn, Korosten, Pidzamche, Lviv. From przemyśl he will depart at 15:42 and arrive in Kyiv at 23:53.
Due to low passenger traffic high-speed trains intercity+ No. 743/744 . — Truskavets on the site from Lviv to Truskavets from 1 September it will run from the station Darnitsa to the city and back from Lviv from September 2. Time of departure and arrival of trains to the destinations does not change.
Previously ULTRASOUND has also appointed high-speed train intercity No. 736/735 on the route Kiev – Zaporozhye – Kiev. The train will carry out additional flights from Kiev and Zaporozhye on Tuesdays and Saturdays – 25, July 29 and 1, 5, 8, 12, 15, 19, 22, 26 and 29 August. The train will depart from Kiev at 14:49 and arrive in Zaporizhia at 21:57. In the opposite direction train will depart at 22:58 and arrive in Kiev at 6:10.
Also UZ changed the route running double-deck passenger trains Skoda, which is from July 29 began to ply on the route Kharkiv – Kyiv – Kharkiv. Before the train reached Vinnitsa.
Comments
comments