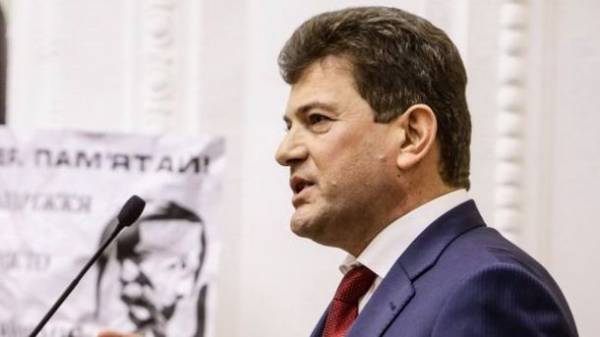 The mayor of Zaporozhye Vladimir Buryak criticized the incident on Tuesday in the city hall searches for the alleged facts of information transmission using non-lethal weapons in the occupied territory of Donbass in the night from the premises of the Executive Committee.
SEE ALSO
In Zaporozhye detained the chief physician of regional hospital – media
"Today the staff of SBU in the city Council (…) conducted their procedural actions alleged to confiscate any camera, any means of passing secret information is now clearly spelled out. Supposedly from the walls of this building there is a transfer of secret information in the LC-DNR. I looked today ujwala (definition – if) court and some of the offices of the Executive Committee, saw that after anyone no conviction. And in my office. The Protocol was signed – I was handed nothing found", – commented the mayor of the city, was quoted by the newspaper "Industrial Zaporozhye".
According to him, such actions can lead to destabilization of the situation in Kiev.
SEE ALSO
The NEB conducts searches in "Ukrnafta"
"The question to ask yourself: do we have someone who dominates the situation in the city Kiev? Who? Why undermine the peace that exists today in Zaporozhye? Why undermine the political and other circumstances, to say that there are some separatists? We have peace in the city. We repair roads, we reconstruct parks, we are producing trams, and we are told that we are capturing the power of any," said Buriak.
Thus the mayor emphasized that "Zaporozhye – Ukraine, (it) was, is and always will be. And the inhabitants of Zaporozhye not confirmed, and I am sure that, if necessary – will once again prove that Zaporozhye is Ukraine first of all. And here separatists there. And I, as a responsible person as the mayor say that in Zaporozhye separatism will never go away!", – said the mayor of the regional center.
SEE ALSO
Special forces broke into the shopping center "Gulliver": searched the editorial office of "Vesti"
"And today's actions of certain structures is what? In my understanding, it zakazuha, showing off and absurd. Why? Because nothing was found, nothing presented to date. It's just undermining the situation in the town of Zaporizhia today. But in my mind whoever does it first of all assumes the leadership of the country and almost every citizen of Ukraine that such unreasonable, absurd actions," said Buriak.
As reported, on Tuesday in the city hall of Zaporozhye raided, the cause of which was the law enforcement information about the alleged channels of the transmission of information from city hall. The demonstrations on the basis of the decision of the Zhovtnevy district court of Zaporozhye, according to which the offices of Deputy mayor and the mayor wanted "items and documents relevant to pre-trial investigation, namely systems for audio and video surveillance web cameras, cable modems, routers, system units of personal computers, laptops, tablets, hard drives and other media".
Comments
comments