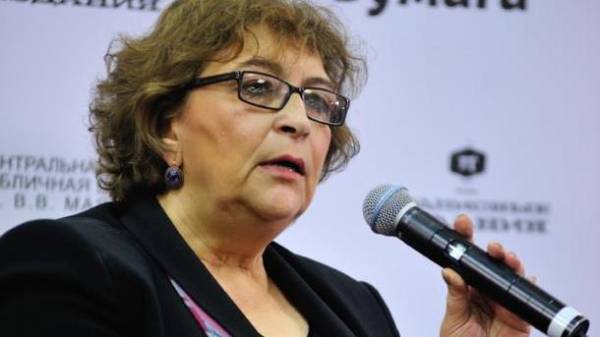 Russian journalists during their stay in Ukraine said that they felt ashamed for their country's aggression against Ukraine, reports "Apostrophe".
The well-known Russian journalist Yevgenia Albats the radio station "Echo of Moscow" told how during a visit to Khmelnitsky it struck the stand with photos of the victims of the Ukrainian military.
"There are portraits of young people, 10 or 11 portraits of casualties in the Donbass. And one woman said to me: "As mothers, it was hard to nurture them in the 90s. You have no idea what happened here. And now they were dead. That's what? Do you really think we eat babies?". I was so embarrassed. And then in the Khmelnytsky regional state archives, where I came to watch the rabbinic books, there is a reading room in front of the stand, well at least 100 names. And: "Died, Avdeevka", "Killed, Donetsk airport", "Lost and Gorlovka", "Died of his wounds, the Kiev hospital" and so on. And the feeling of such a monstrous shame that makes your power, and that millions of my countrymen support this nightmare," said Albats.
She also noted that whatever was said on Russian television, there is no doubt that the reason for this all – Russian aggression.
SEE ALSO
Muscovites on the visa regime with Ukraine: "They fear us"
In turn, the Russian journalist Arkady Babchenko told the story of the visit of the Kiev metro, where it is, as he says, took the wounded Ukrainian military.
"Faced with the problem. To me, it was absolutely impossible to travel in the Kiev metro. As soon as I go in the car, I give way immediately. Some people immediately jump up. And the eyes I see a young man with a crutch now clearly reads as a combat veteran. And I feel so ashamed, even in the place of the failure – I do not what is not protected Ukraine in my pocket is a passport of a country that attacked it…" – wrote the journalist on Facebook.
Moscow recently conducted a survey on the street, where residents of the capital of Russia asked the question "do you Fear a major war of Russia with Ukraine?". That said, the Muscovites can be found here.
Comments
comments