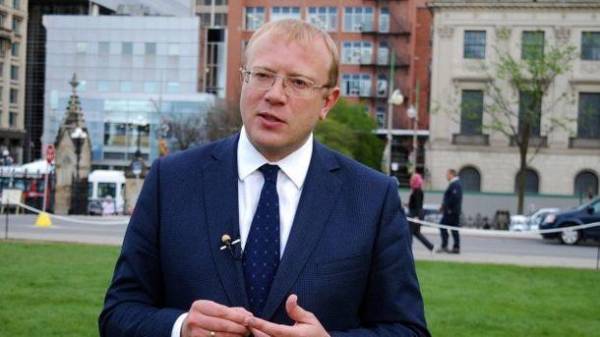 The signing of the free trade agreement of Ukraine with Canada shows the solidarity between the two countries. This was told on air of TV channel SVS Ukraine's Ambassador to Canada, Andriy Shevchenko, UKRINFORM reports.
In his opinion, this cooperation with Canada is not only a signal to Ukrainians, but also Russia.
"The agreement is a good agreement on fees, but, of course, goes far beyond this. It sends a strong signal as to the people of Ukraine and Russia", – said the Ambassador on the question of whether free trade with Ukraine solidarity from Canada.
SEE ALSO
Ukrainians now can duty-free take a used car from Canada
He also noted that the two countries have developed a Mature and pragmatic partnership.
"We are witnessing a very Mature and pragmatic partnership that occurs between the two countries in defence, trade and the promotion of other important canadian issues, such as environmental standards, workers rights, free trade. Ukraine believes these things, and your country," the Ambassador said.
We will remind, Ukraine's FTA with Canada came into force on 1 August. Canada opens for Ukraine 98% of their market. Without tariffs Ukrainian producers will be able to export to Canada processed agricultural products, goods food, textile, chemical, petroleum and machinery industries. Exports of wheat, barley, eggs, beef, pork will be duty-free only within the established quotas.
Ukraine undertook to abolish customs tariffs on 72% of canadian goods, particularly fish and seafood, grains, peanuts, juices, mineral water. On the part of the goods from Canada duties are canceled simultaneously, and using transitional periods in the three-and-a-half and seven years.
Comments
comments