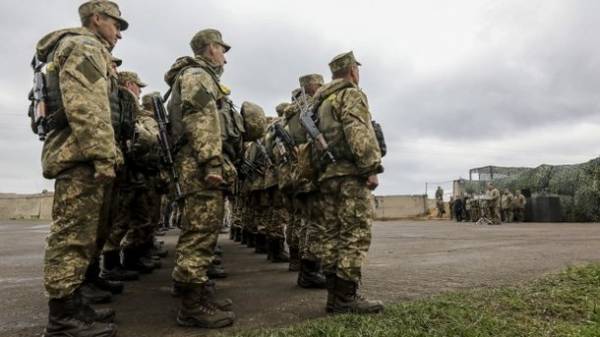 Secretary of the national security Council and defense Oleksandr Turchynov has proposed to increase the salaries of the Ukrainian military and sent the relevant proposals to the Cabinet of Ministers, the press service of the NSDC.
"The fourth year continues military aggression against our country. That the soldiers and officers of the Armed forces of Ukraine and other military formations because of his courage and heroism, at great sacrifice, were able to stop the enemy and liberate our territories", – said Turchinov.
He recalled that military pay up to seven thousand UAH were raised more in 2015 and until that time had not been revised.
"We must do everything to cash collateral for our troops consistent with their important place in society. Revenues our military needs at a decent level to meet the needs of their families," said Secretary of the NSDC.
SEE ALSO
Us General: US use the experience of the Ukrainian military
He also compared the salaries and other payments to officials in the government and military commanders in a combat zone.
"Many heads of departments of ministries and other Central bodies of Executive power, starting in 2016, received a salary that exceeded 30 thousand UAH per month. For comparison, today the total monthly income from premiums, allowances and payments made to the combat brigade commander – a Colonel who is fighting on the front line – the average is 19,5 thousand UAH (in a combat zone salary doubles – ed.). The official salary of the head of the Department of Central body of Executive power 9.1 thousand hryvnia, additional payment for rank – 800 UAH. The brigade commander salary – 1.2 thousand UAH and paid by the blood of the rank of Colonel, he receives an additional "already" 135 UAH. By the way, even the salary of civil servant of the lower grade (specialist) who works in the Central bodies of Executive power, to greatly exceed the salary of the combat brigade commander, and is 4.2 thousand UAH", – said Turchinov.
SEE ALSO
Military expert: the Number of Ukrainian army grew to 240 thousand people
He stressed that the structure of financial support for the Ukrainian soldier must meet the standards of NATO, at least 70-80% of the base salary and Supplement for the rank, while in Ukraine the figure is 10-15%.
"Proposals for the formation of the defence budget of our country, I was sent to the Cabinet of Ministers of Ukraine. When one of the officials disagree, they have the opportunity to prove his position in the front trench," – said Turchinov.
Earlier the President of Ukraine Petro Poroshenko said that more than 300 million UAH will be used to purchase new tanks "Oplot" for Ukrainian troops and from the end of the year, APU will get dozens of upgraded tanks T-72.
Comments
comments