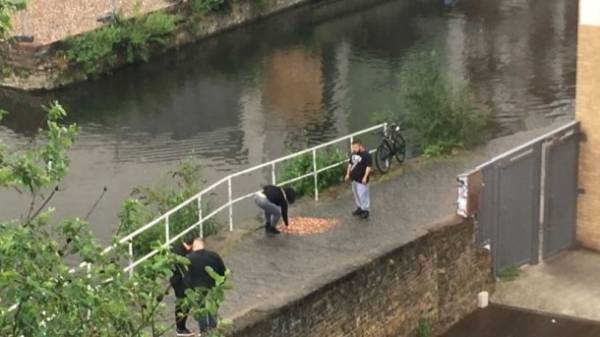 London resident Jamal Macmorran organized Twitter stream unusual experiment: together with photographer Lana Music he scattered on the pavement of 15 thousand coins and watched the reaction of passers-by. It is reported by Mashable.
Music couldn't figure out what to do with the coins that remained with her after an art project. So they Macmorran decided in real time to tell what feelings in people is causing such a find.
The bridge was visible from the apartment window of Macmurray, so the organizers of the venture could monitor what is happening.
A mountain of coins at once became interested in children. One company started to play with them, and the other to collect them. Some were just photographed on a background of occurrence, as one passer-by even put to mount my umbrella for the sake of the composition.
The experiment ended up that two guys came with a bag and shovel and carried away all the wealth.
This guy is awesome…. looking for some magic #coinsbythecanal pic.twitter.com/Dj4Dvojawn
— Jamahl (@JHM_UK) may 17, 2017
Earlier it was reported that tourists are sketched in Roman Trevi fountain coins almost 1.5 million euros.
Comments
comments