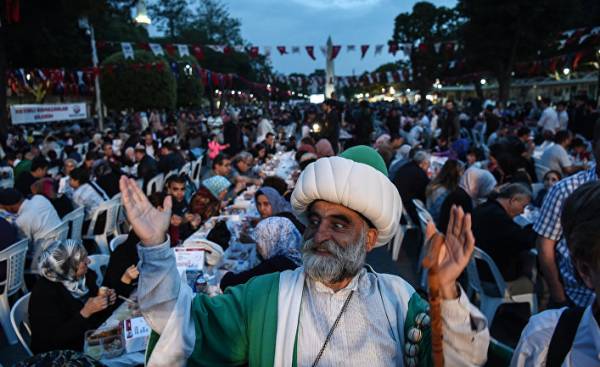 Training in three languages
The basis of the new University it was decided to put the model, which differs from such well-known Muslim universities like al-Azhar University in Cairo or the Islamic University of Medina, and started work in this direction. The administration of the coup, Abdul-Fattah al-Sisi in Egypt has long been trying to sabotage his religious education in al-Azhar University. The creation of a new University center in Istanbul will lead to a shift of axis in religious education. Training at this University will be conducted in three languages — Arabic, Turkish and English. To work at the University, which will accept foreign students will also be involved leading experts and Islamic scholars from other countries. It will also work over a hundred Islamic scholars who fled from Damascus and Aleppo due to the war in Syria and found refuge in Turkey.
The combat organizations
The Islamic University, which will develop curricula of Islamic Sciences to the world, in addition to academic research, will be on the ideological level to combat such abuse of religion by organizations like ISIS (banned in Russia — approx. ed.), a terrorist organization FETÖ of Fethullah Gulen (Fethullah Gülen), "Boko Haram". One of the goals of the International Islamic University will seek a solution masabni conflicts. In this direction also it is planned to conduct scientific and diplomatic work.
The goal is tens of thousands
The University, which, along with the teaching of the Arabic language is to teach in such fields of knowledge as SIAR (the biography of prophet Muhammad — approx. TRANS.), the hadith (the sayings and deeds of prophet Muhammad — approx. transl.), fiqh (Muslim code — approx. TRANS.), Islamic law, plans to attract tens of thousands of students from different parts of the Islamic world. With the establishment of the University will start work to ensure its recognition by the higher education systems of other countries. The University will begin its work no later than the 2019-2020 school year. The main goal of the University to cover the deficit of educated religious figures around the world and limit the scope for action of organizations and institutions that wrongly interpret the religion.
Training specialists
The University will provide an opportunity not only to higher education. Thanks to the institutions that will be created in the structure of the University, will be trained by leading experts in their field. Each Department will produce hundreds of religious leaders who will serve the Muslims all over the world. And this is accompanied as in-depth specialization, and thorough research.
Comments
comments