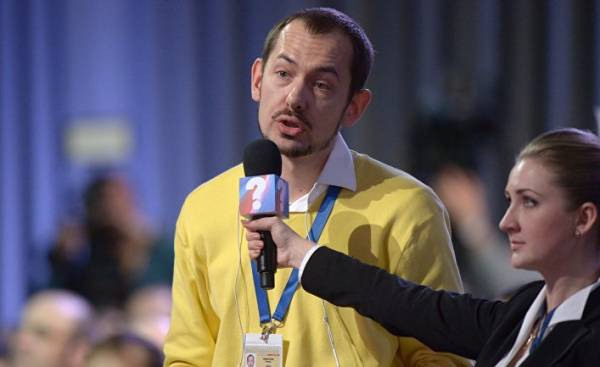 Ukrainian journalist of the news Agency UNIAN ROMAN TSIMBALYUK, who lives and works in Moscow, became widely known after the acute issues of Russian President Vladimir Putin. In addition, Tsymbalyuk is not afraid to debate with the adepts of the "Russian world" in the broadcast of Russian political talk show. In the first part of an interview with "Apostrophe" the journalist said, why participate in such programs as Russian media work and why the Kremlin does not care about their prisoners.
— Roman, you go to a Russian political talk show. For what? Do you really think you'll be able to convey their position to the Russians?
The question is asked very often, and it just so happens that I'm a little justified. In fact, I go there not so often. Why go? The question for me remains open and controversial, because I understand that you are to try to convince anyone there can't, and there's always a risk that can become a Ukrainian for a beating, which all down, showing the kind of terrible in Ukraine "fascism". But there is an interesting response out a lot of people, including from the occupied territories of Donetsk, Luhansk, Crimea, wrote me that it is cool that they support me. In addition, if someone is not too lazy to cut out the pieces of programs with me that are getting hundreds of thousands of views, probably, it is all in vain. I recently looked at myself and was shocked — hundreds of thousands of views!
The audience for these programmes, which are broadcast, including on the occupied territory, have long been in their opinions as established, all the words have been mentioned. If a person hates our country, he will hate, and you're not persuaded, respectively, and Vice versa. You can be a Ukrainian journalist only until while there is Ukraine. The Agency UNIAN had a few correspondents in the Crimea, was a reporter in Lugansk and Donetsk, but after the occupation, everyone was forced to leave the area.
— Feeling the pressure from the Russian security forces? Received threats?
— No. It's a little different working. To date, there the worst is the recipient of Russian propaganda. When those who actually watches Russian TV, get to know us on the cap of the microphone, for them this is a sufficient reason to consider us Nazis.
— There were cases of open aggression?
— On the streets very often, especially in 2015. A few times we wanted to beat, we ran away. And the authorities… working there are highly educated people, they work, when they turn off their talking, they are absolutely adequate, and everybody understands. Someone thinks that Ukraine is the region of interest, someone said that executes the order, someone else finds an excuse for himself. Today from the bodies I no special pressure not feel. Someone says that they are all journalists are listening and go over them, but I don't care.
— After the first question to Putin was an attempt of censorship, when you second time came to him at the press conference? May have been persistent requests of something to ask?
— No. The fact that this show, and done it at a high enough level. The event goes live, it broadcasts a bunch of channels, but by means of these questions and the effect that Putin — almost the God, and any question can be answered. This is partly because Putin is a very experienced speaker, but in the end, it came down to the fact that my question and his answer is very rarely intersect. I don't see that it is possible to ask the President of Russia, working there, but war.
— Do you think Russian journalists who talk about "crucified boys", believe it or just do the order?
— I am inclined to believe that 90% of absolutely sane people, and they know what they are doing. They are highly educated, they have a great following orders, they're soldiers. This is not journalism — it is the soldiers information front, there is no other opinion if we are talking about the Federal group. By and large, it's all a big, branched, the press service of the President of Russia. I personally at the trial Savchenko saw this girl who created a story about a boy from Slavyansk. I remember Vera Savchenko tried then to find out if she is not ashamed. Her answer still amazes me. She said, "Well, maybe it was not, but he could be." That is a Slavic boy could be, NATO soldiers could be, if we are talking about occupied Crimea. Based on this "could be" the Kremlin gave the media team, and they introduced Russian society to the state in which it is located: enemies everywhere, and the Ukrainians eat Russian children.
— Certainly in the Russian media Ukrainian journalists work with the Pro-Putin, Pro-Russian stance. How do they argue this? Than making excuses?
— What is meant by "Ukrainian journalists"?
— Ukrainian passport, for example.
— There is, for example, the publication "Ukraine.ru". There are lots of people who had Ukrainian passports and become Russian. The paradox is that the authors of this resource, and I communicate with many, also absolutely sane. On the question of who is in the "militia", they say "Well, who? Only crazy." That's all. They know better, criticize Russia in private conversations that she's being a bad boy in relation to the Donbass, saying that she is behaving meanly. Here it is, a real showcase of the "Russian world" in Donbas, where there are no rights, where a curfew where the basement of any man can kill, and the Ukrainian flag you generally just tear. They all know, but they are not the Ukrainian journalists. The passport and the language in which you speak and think, are not a criterion, only identity.
— What are the Russian opposition media?
— The question is very debatable, what is considered the opposition media. There is a group of so-called liberal media, for example, "Novaya Gazeta", where Pavel Kanygin, who is now engaged in the mother Ageeva (Russian soldier Viktor Ageev was detained by the Ukrainian military in the Luhansk region — "Apostrophe"), "Echo of Moscow", for example, RBC to some extent. But to call them opposition, I would not hurry. In Russia, if the media is trying to practice journalism that is extremely difficult, it is already considered by the opposition, but it is not so. If you look at the system owners of these media, I am afraid that the word "opposition" is simply not the place.
What then are the liberal media? Or on the Ukrainian question their liberalism ends?
— It is clear that the liberal media can't describe things the way we do it from Ukraine, from Kiev, there are nuances and lots of things that I think are outright manipulation. For example, one of these editions compared [postal] stamps the so-called DPR and free Ukraine. It seems to me that when you put on one scale the occupied territory of Donbass and our country, then this is manipulation. This is the main goal of the Russian propaganda machine to say that it is an internal conflict. We have the same Paul kanygina many criticize that he questions wrong sets, but he's one of the few who pulls of Russian soldiers and shows them in Russia. And one of the soldiers of the Russian army, which here-here will appoint the "militia" in the Donbas, will creep the thought, not if he gets into the same situation? Maybe some of them will say: "Yes well it on figs. Let the Ukrainians live for yourself, and I'll stay at home, even if the money's good, but it's a different country".
— By the way, about the situation of Ageev. As you see, it eventually exchanged for Sentsov, for example?
— No. Not because it's bad or good, but because Russia does not care about its citizens. He's not the only one. Over the years, even the Russian foreign Ministry voiced figure, they form such interesting choose — more than 100 Russian citizens who "illegally arrested in connection with political activity on Donbass for the 2014-2015 year." What the hell is that? What is this "political activity," when the Russians came to shoot at our protectors? Somehow it too in Russian.
I'm saying a lot of people, but Russia is the last to pretend that they are not. But when thanks to such journalists as Paul Kanygin, this topic is strained to the point that can not be silent, because every Russian soldier reads the newspaper and thinks: "How so? We were taught in school that the Russians don't throw, but in practice this is not so," then Russia starts to react. But it is a trade of people in the Kremlin. They say, well, this is what we Ageev, we don't care. Now imagine the Ukrainian negotiating team, and they say they want everyone to pick up. Here there are more than 40 people in Russian prisons: the Crimean Tatars, Sentsov, Sushchenko… That's all I want to pick up, and the opponent said that he was indifferent to the fate of their Russian. How much is sitting there — more than 100 people? In General the demographic situation is not affected.
— If you like Ageev, a lot, why in Russia do not rise to their defense, family, soldiers ' mothers, because we don't see large organized protests. Or they are pressured by money, threats?
— Different options, but I feel that what is happening now in the Donbas is a conflict not of high intensity. There is a truce never adhered, but the number of victims on such a large country as Russia, probably, for Russian it's acceptable losses. In addition, the Russians who go there, not leave as whole units. From all over Russia gathered several people and created in the Rostov region some unit. In the event of hostilities cargo 200 also travels in a single city, and different cities.
— Now, many analysts, experts and military talking about the possibility of a full-scale aggression of the Russian Federation. For example, the chief of the General staff Viktor Muzhenko said about the three Russian divisions which came to the Eastern border of Ukraine. Plus the danger of joint Russian-Belarusian exercises "West-2017". Have you considered the possibility of a major war?
— I think that in Russia the word "possible" should not be used, and all military construction in the state should just be based on the fact that everything is possible. In fact, the President of Russia in the Ukrainian question can only trade war: if you do not agree with us, we will shoot intense, if you agree, I can shoot less. But, on the other hand, I am thinking that at this point in history Russia all could have won further promotion will be associated with total resistance, and they understand that the Russian Ivan will be dogging everywhere.
Comments
comments