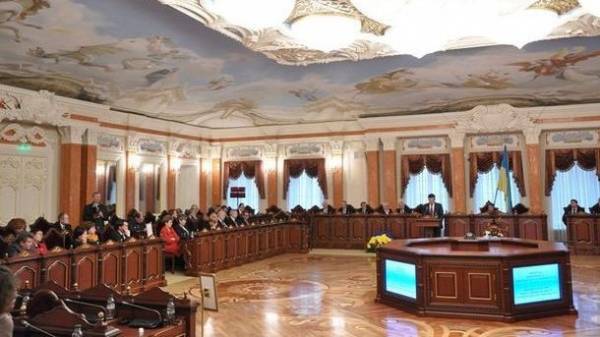 President of Ukraine Petro Poroshenko said that for the first time in the history of Ukrainian justice, the formation of the Supreme court transparent and open. He said this during his address at the end of the contest on the formation of the Supreme court, the press service of the President.
"For the first time in the history of our country the formation of the Supreme court through open, transparent and extremely competitive contest. In the very beginning in one place claimed by seven people. And for the first time each of them tested according to the criteria of competence, professional ethics, psychological stability and virtue. For the first time the right to become judges of the Supreme court received not only judges, but lawyers and legal scholars – that is, professional lawyers are not the judiciary," he said.
SEE ALSO
Rada has launched a judicial reform
He also noted the role of the Public Council of virtue, because of which many candidates withdrew from the contest in connection with the discrepancy.
"Imagine, more than 40 percent of the candidates, which the Public Council gave negative conclusions, the Commission withdrew from the contest! Isn't it a unique example of public-public partnerships? Generally, up to 80 percent of those to whom the Council had complaints, in the end, and were not included in the final list," – said Poroshenko.
SEE ALSO
The first results of work of the Council of justice: dismissed 22 judges and established disciplinary chamber
According to him, 120 of the finalists for the month will be checked and even the High Council of justice. On the basis of its decision and presentation will be relevant presidential decree.
The President also urged the deputies in the first session week make all the necessary changes to the procedural codes to the new Supreme court as quickly as possible earned.
As reported earlier today, the Supreme qualification Commission of judges announced the names of the winners in the new Supreme court.
Comments
comments