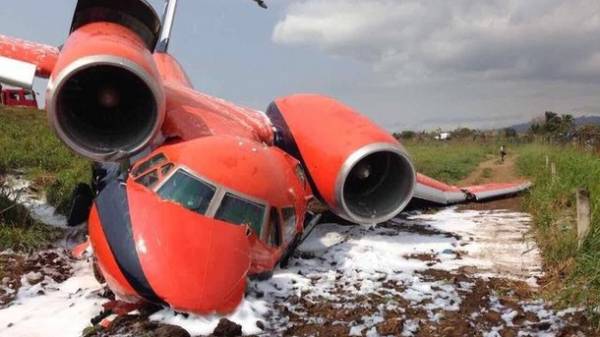 Crew members crashed in Central Africa Ukrainian cargo plane wanted to test for alcohol and narcotic substances in the blood. This decision was taken by local police, reports "Gromadske radio".
In total the plane had six crew members, four of whom received minor injuries and was taken to the hospital for assistance.
"The crew did not require any additional treatment. Injuries that can be life-threatening and health, members of the crew there. Now their condition is satisfactory. After taking tests for alcohol and narcotic substances, the crew will return to the hotel. Then they will decide about the delivery to Ukraine", – said zamministra of infrastructure of Ukraine Yuriy Lavrenyuk.
According to him, the issue of the protection of the aircraft after the fall has already been decided. Now the issue about sending on a scene representatives of the Ukrainian aviation investigation Bureau to establish the detailed circumstances of the crash.
As reported, on July 29, the day in Central Africa fell down a Ukrainian cargo plane. Fortunately, has done without victims.
Comments
comments