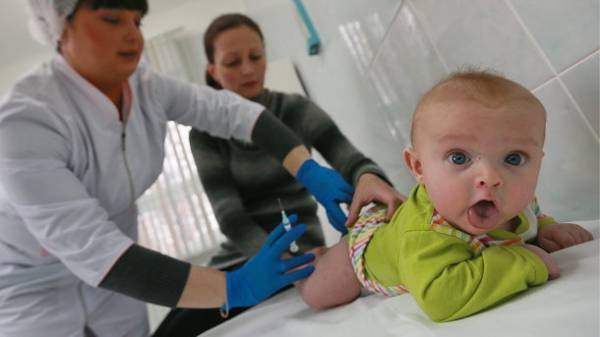 In Ukraine in 2016 projektiniai was less than 50% of children. The same level of vaccination, the UN recorded in African countries. Why Ukrainians cannot receive the vaccine and what is the danger, recognize the site Today.
Why Ukraine is at the level of Somalia and Nigeria
At the end of June in Odessa died of measles four children. His parents refused vaccination and that the baby did not develop immunity to the infection. The vaccination rate in Ukraine started to fall since 2008. In 2013 in the country there is a shortage of vaccines. In 2016 only in eight countries the UN has recorded a vaccination rate below 50%. Ukraine has got their number and was on a par with the Central African Republic, Chad, Equatorial Guinea, Nigeria, Somalia, South Sudan and Syria.
The problem with vaccination in the country started because of the erosion of confidence in the vaccination, experts say. In 2008, after vaccination against rubella and measles has died 17-summer Anton Tishchenko. Because of this, throughout the country stopped vaccinating. After the scandal eight million doses of vaccine were destroyed, although the Ministry of health has recognized its threat.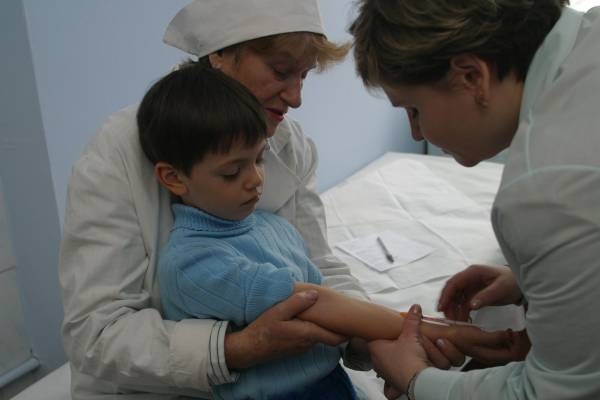 In Ukraine one of the lowest levels of vaccination. Photo: A. Yaremchuk
"This situation provoked the decline in awareness among mothers. Everyone was scared. Since that time, vaccination rates began to decline. He dramatically fell in 2014", – said the Executive Director of the Foundation "Patients of Ukraine" Olga Stefanyshyna.
In 2014, the Minister of health Oleg Musy have failed in the procurement of drugs for almost a year. Vaccines according to needs of 2014 came only in 2015. Because of this, Ukraine gave the purchase of drugs international organizations: UNICEF, Crown Agents and UNDP. But today Ukraine is unable to purchase the medications on time. On 26 July, the country received 69% of immunobiological vaccines demand 2016. The purchase of 2017 is just beginning.
"The production time of vaccines and a half – two years. If Ukraine buys the vaccine, you should be ready that it will be done in a few years. Because of this, there have been delays in 2015 and 2016. These interruptions also significantly affect supplies. Now UNICEF purchases vaccines, their quality is confirmed by the world health organization, – says Olga Stefanyshyna.
Ukraine faces an epidemic of infectious diseases
Ukrainians in childhood are vaccinated against 10 dangerous diseases: hepatitis B, tuberculosis, tetanus, whooping cough, mumps, measles, rubella, polio, diphtheria, Haemophilus influenzae. The last vaccination is done in 16 years. Then adults should vaccine every 10 years against diphtheria and tetanus.
A decrease of 5% in the number of vaccinated children from two to 11 years within a year leads to a threefold increase in cases of measles and the treatment expenses in the amount of $ 2.1 million.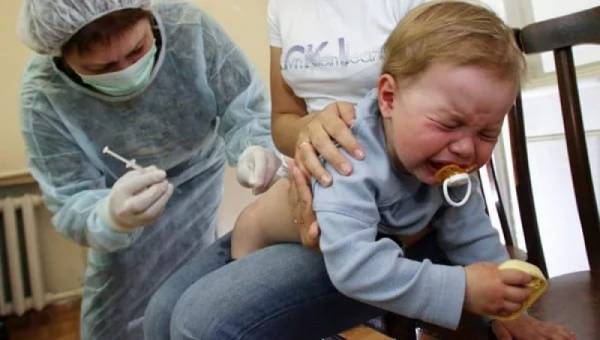 Due to the low level of vaccination in Ukraine already raging measles. Photo: welemudr.ru
The health Ministry said – in Ukraine, the outbreak of measles. For the first six months of measles ill 735 Ukrainians. And this is directly linked to low vaccination rates, according to the Department.
"Insufficient coverage of vaccination threatens to spread and leap of infectious diseases, which in the civilized world are considered to be defeated – measles, rubella, polio, diphtheria," – said the head of the organization "infection control in Ukraine" Viktor Lyashko.
The country has all the preconditions for the outbreak of diseases, say doctors. First, in Ukraine, not all children are vaccinated. Second, few Ukrainians know that in the adult age need to be vaccinated, because vaccination produces immunity for 5-10 years.
So, last year only 46% of children were immunized. In 2015 against diphtheria was redaktirovanie 0.1% of adults in 2016 – 21%, says Igor Marychev, senior researcher of the Institute of epidemiology and infectious diseases. If 90-95% of people have immunity against infectious diseases, it does not apply across the country. Such immunity is called "collective". But in Ukraine, by more than two times lower.
"This is a manageable infection. Their distribution depends on the vaccination coverage. It can be assumed that a low level of pribivanii in recent years, a possible epidemic rise of diseases," said Igor Marychev.
The low immunization rates can lead to an increase in the number of deaths among children, says medical expert, UNICEF Ekaterina Bulavina. Now in Ukraine there is an outbreak of measles – a highly contagious infectious disease. Measles had died two children. In addition, there remain risks of outbreaks of polio, there are big risks of outbreaks of diphtheria among children and adults. In Ukraine there are cases of tetanus among children not immunized. For several years there has been an outbreak of whooping cough. All these diseases are very dangerous and can cause death.
When in Ukraine there will be a vaccine
All the hospitals have the vaccine for vaccinating the Calendar of the Ministry of health. This amount will be enough to cover 90% of the population of Ukraine, Viktor Lyashko. However, there is a problem with doctors. Doctors often advise parents to vaccinate or asked to do later.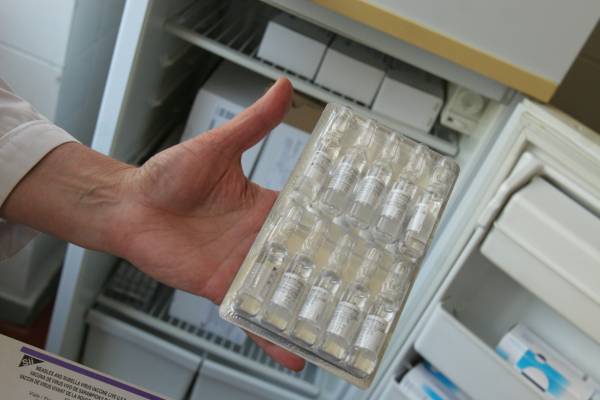 In Ukraine the drugs will be enough to vaccinate 90% of children specialist. Photo: Archive
"A lot of anti-sentiment spreading among poorly qualified physicians. There are doctors who persuade parents to postpone vaccinations. There is a problem in communication – you need to restore the faith in vaccinations or to introduce additional financial incentives. For example, in Australia do not pay social benefits to the child, if he is not vaccinated," – said Lyashko.
But to catch up with procurement the Ministry of health should begin to conduct tenders for one year, and for several years ahead, says Olga Stefanyshyna: "Now most of the vaccines are. The Ministry is in the process of ordering vaccines for the current year. If there are fast-tenders – we will "catch up". Need to do orders for several years to avoid shortages in the future."
How to get vaccinated
Immunoprophylaxis in Ukraine are free. For vaccination of patients are supervised by a therapist and tells him about the need to be vaccinated.
Before you vaccinate the baby, the doctor examines his chart, measures the temperature and conducts a General inspection. Before vaccination, parents must sign a consent form and assessment of the child. Form must be completed by a parent or guardian. The completed document remains in a medical facility where vaccination is practiced.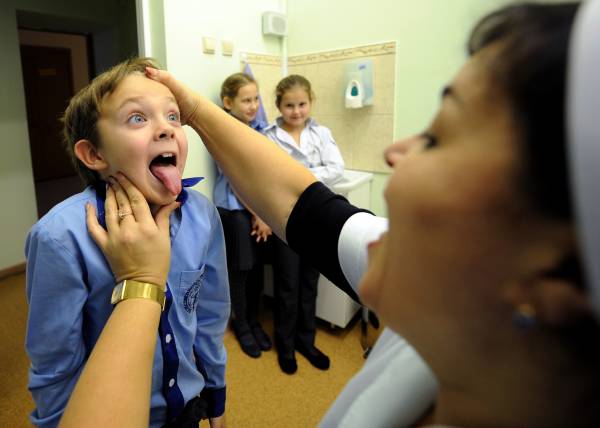 Before vaccination the doctor should inspect. Photo: VALERIY MATYTSIN/ITAR-TASS
Be sure to tell your doctor if:
• are allergic to medicines, foods or vaccines;
• had a serious reaction to vaccination in the past;
• health problems associated with asthma, lung disease, heart, kidney, metabolic disorders (e.g. diabetes), diseases of blood;
• were taking medications that suppress the immune system (cortisone, prednisone, steroids, medicines to treat cancer) or were receiving radiation therapy;
• I had a blood transfusion or blood products;
• take some medicine;
• vaccination in the last four weeks.
In turn, the physician should inform the patient about possible reactions to the vaccine and the time frame in which they can occur. Also, the patient should tell you what symptoms you need to go to the hospital. After vaccination, the physician should warn you on the date of the next vaccination.
To prevent outbreak of infectious diseases in children, adults also need regular revaccination, says immunologist Tatyana Bondarenko.
"In adulthood, we recommend re-vaccination against childhood infections every 10 years, considering the fact that a person was inoculated earlier. In the absence of vaccination be vaccinated, you can start at any age. So, first, revaccination of adults must be carried out, and the doctors have recommend that will prevent outbreaks or epidemics of childhood diseases and facilitate the course of children's infections in adults. Second, if the patient already has severe somatic disease, it is best to be vaccinated prophylactically to prevent exacerbation of the underlying disease when infected with infection. For example, heart disease – for these patients, revaccination is recommended in a planned manner, in order not to aggravate the basic condition. If there is any doubt about the necessity of revaccination, it is possible to check the level of protective antibodies and then make the decision about revaccination. If antibodies are present in the body, the patient can not revaktsinirujut. This analysis is easily done," said the doctor.
Comments
comments