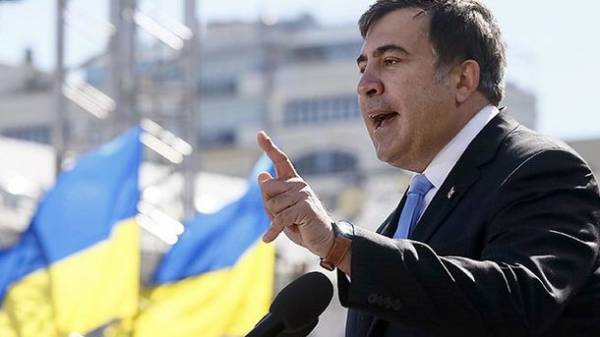 The former head of the Odessa regional state administration Mikheil Saakashvili could lose citizenship due to the fact that when filling in the relevant documents did not indicate information on criminal records. About this "Ukrainian truth" said a source close to the President of Ukraine.
See also: Georgia clarified the situation surrounding requests for the extradition of Saakashvili
"He lost his citizenship, because when filling in the documents for obtaining Ukrainian citizenship wrote that has no criminal record, and actually had it a few heavy cases in Georgia", – said the source.
Recall President of Ukraine Petro Poroshenko has deprived Saakashvili Ukrainian citizenship. At the same time, in the message of the GMR is not directly stated that deprived of citizenship that is Saakashvili.
It is noted that the materials "as Mikheil Saakashvili the General Prosecutor of Ukraine received from the Georgian side, processed by the State migration service of Ukraine, directed to the Commission on citizenship issues under the President of Ukraine and duly considered at a meeting of the Commission."
See also: the Migration service commented on the information on the nationality of Saakashvili
Saakashvili himself the situation has not yet commented, at the moment he is in the USA.
Before the official decision on the deprivation of Ukrainian citizenship Saakashvili in an interview replied to a question about what he would do in the case of deprivation of Ukrainian citizenship.
Comments
comments