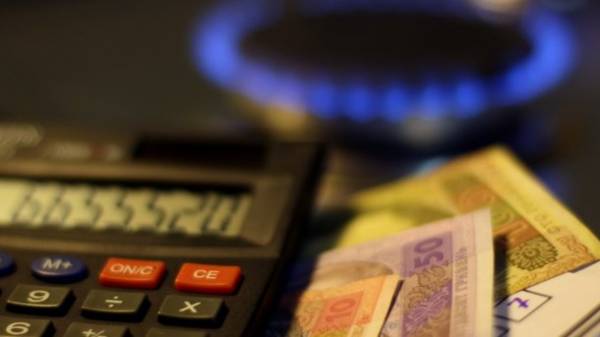 Since the beginning of last year, the Cabinet took Natskomissii the right to determine the tariff for natural gas. Prices the government sets its decision. Last year, the Cabinet established: until 31 March 2017 "Naftogaz of Ukraine" purchases of natural gas at a price 4849 hryvnia per thousand cubic meters. Taking into account the costs of shipping, value added tax and surcharges the final price to the consumer – 6,8 hryvnia per cubic meter. This year, the government extended the regulation until the first of April 2018, i.e. until the end of the coming heating season. Accordingly, the gas can rise only next year.
The current price of gas is calculated according to the formula: price of natural gas at the German hub × the exchange rate of hryvnia according to the NBU rate + transportation costs + tax + markup "Naftogaz". This formula, say in the government, keep the rate at the level of import parity. At the same time, Ukrainian and cheap, and expensive imported gas is sold to the Ukrainians for one price.
In the Memorandum with the IMF, which was signed by the President, Prime Minister, Minister of Finance and the head of the NBU, Ukraine has pledged to "conduct a temporary mechanism to automatically adjust the retail tariffs for gas and heating on a semi-annual basis." Such a mechanism has been developed. Every six months (the first of October and the first of April) officials will rely on the above formula the rate. And if you find that it differs by at least 10% of the current price will change.
As experts believe, given the rise in price of imported gas and the devaluation of the hryvnia, we are talking about the growth rate. The ex-the head of Department on public relations of "Naftogaz" Valentin Zemlyansky estimated gas, according to the formula of the Cabinet, will cost 9600 hryvnia per thousand cubic meters (currently 6800 UAH). At the same time, Yuri Korolchuk sure that it is economically reasonable price of gas will rise by 25-60% (8.5-11 thousand UAH).
In addition, according to the Memorandum, in the autumn, before the heating season, Ukraine has to split the gas fare into two components: the price of natural gas as a commodity and the cost of distribution. In fact, it means the introduction of fees for natural gas. The national Commission planned to pay a subscription fee until the end of may this year. The corresponding decision was already made, but after criticism from the Prime Minister the decision was delayed. According to the website "Today" if the resolution came into force, Ukrainians who use gas only for heating food (and the majority) would have to pay more. But those who use gas for heating, the subscription fee would save. More information can be found here.
Comments
comments