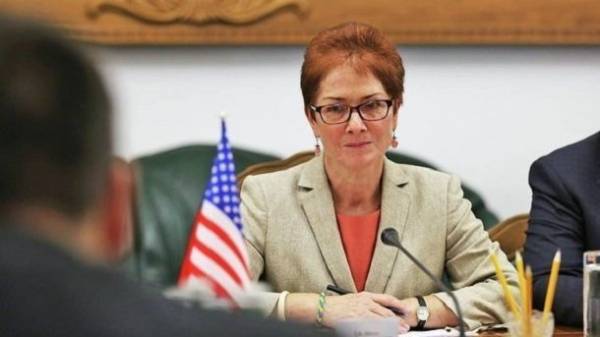 U.S. Ambassador to Ukraine, Marie Yovanovitch said that Russia is a party to the conflict in the Donbas. She declared it in interview to the newspaper "Day".
In her opinion, no matter how criticized the Minsk agreement, they can help to end the war in the Donbass.
"Of course, very important in the Minsk agreement that they signed all parties to the conflict, including Russia, which is a party to the conflict, we believe. I know that some people consider the Minsk agreement are inconsistent, but almost all the elements of what you need to resolve the conflict, there are in the document", – said Jovanovic.
See also: Ukraine appealed to Russia from Donbass
She also noted that Russia should take appropriate measures so that the West took off the sanctions.
"No one discussed the lifting of sanctions. US policy is very clear. Sanctions against Russia will not be lifted as long as Russia will not do what needs to be done. There is a package of sanctions associated with the Crimea, there is also a package of sanctions, connected with Donbass. Russia should take measures to ensure that the international community removed the sanctions," – said the Ambassador.
Recall, the U.S. special representative in Ukraine Kurt Volker on July 23, visited the Donbass, where he said that there is not a frozen conflict, and a hot war.
Comments
comments