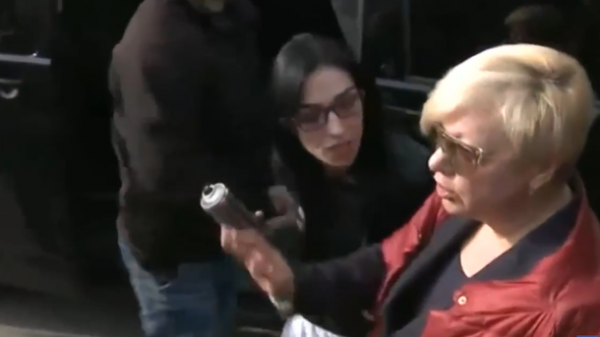 Chairman of the National Bank of Ukraine (NBU) Valeriya Gontareva has confirmed that he wrote a resignation, but do not know exactly when it will be dismissed. About this Gontareva told reporters and protesters at his home, reports "UKRINFORM".
"This is a question for the Parliament and the President of Ukraine. I don't know. I write a letter of resignation, and do not appoint anyone in his position," – said Gontareva, replying to a question on the resignation.
We will remind, in the morning under the house of the Chairman of the National Bank of Ukraine Valeria Gontareva held a protest.
In addition, the sources of the publication Forum of the NBU Gontareva wrote a letter of resignation and asked the President to meet before mid-April. According to the source, this is not the first statement of Gontareva. The previous President Petro Poroshenko had rejected. Now, however, the head of the NBU is serious and does not intend to retreat. As the main reasons for the resignation Gontareva pointed out the performance of their mission "clean-up" of the banking system. However, an anonymous source in the national Bank claims that the Governor is tired of pressure and congestion, so asks to dismiss her.
the information was confirmed by creative producer of the journalistic investigations Department "1+1" Alexander Dubinsky. "Gontareva will make a statement on the resignation tomorrow (6 APR. – Ed.) immediately after the meeting of the NBU Board, – he wrote in his Facebook. – Will be announced two candidates for her seat, which prompted the President among others. It Lavrenchuk and speck. But choose, as usual, six out of the sleeve of the President. Who? Would maintain the intrigue."
We will remind, earlier to the statement of Gontareva said the people's Deputy of Ukraine from the bloc of Petro Poroshenko Iryna Lutsenko, however, after her vacation request is denied by the BPP and the NBU. The next day, Lutsenko said that also said the resignation of Gontareva.
Comments
comments