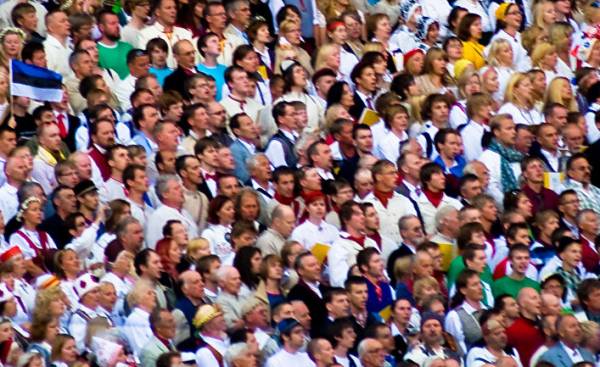 Protected recently at the University of Tartu master's thesis, which was taken by the experience of ten immigrants, it follows that the rhetoric of hatred is deeply ingrained in our society.
"Based on the migration crisis in recent years and the General political instability, as in Estonia and in other countries has been biased against migration. Fear, prejudice and anger towards immigrants — a large and growing phenomenon not only in Estonia but also in the world," — says Viktoriya Kotsuba in his "I'm human! — Experience of Estonian immigrants."
Work shows what I'm talking about and relevant reports and research: attitude is far from hospitable. Iraqi Camera (all fictitious names — approx. ed.) who lives in Estonia for seven years, were brought here by love. The man works as a project Manager in the field of information technology, is a supporting face and making transfers. He understands that the Estonian society is configured in relation to it negatively. Living in a small town in the South of the country, every day he is confronted with verbal attacks, ridicule and racist attitude. "When someone I discriminare that happens every day, then, if I defended myself, the pastor or answered in the same style, society has created me an impression as an aggressive person from the Middle East who is trying to attack the innocent Estonians. Although now I have this image," says Samer.
The man believes that his best defender in Estonia is Estonian. "If someone is mad at me, I answer in Estonian. This is usually a surprise. Sometimes it happens that the racist comments are coming from Russian-speaking people. I answer them in Estonian, and they don't understand me…the Attacks happen even in the educated and working people," he says.
Such survive refugees from Syria Sarah and said with the difference that their family is in Estonia for a year, they do not speak the language and only looking for opportunities for integration. Until now, they were able to smooth the conflict by offering the offender the sweets that they especially are always with you for this purpose.
Russian Valentina first came to Estonia in 1986 as artist at the State Russian drama theatre of the Estonian SSR. "Estonia never gave me food and shelter," she said now. The woman wanted to realize themselves in Estonia and saw a good opportunity for that. On his technique, she has taken hundreds of photos of the Old town. The beauty of these coasts, forests, cities and people have inspired her creativity, but she felt that Estonia is not the same.
Anyway, despite the negative aspects, all interviewees noted that Estonia is a good and safe country to live and that Estonians have simple and hardworking people.

How and why they come to Estonia?
Men from Iraq and Chile, brought to Estonia a love of Estonian. The woman from Azerbaijan also moved here for love. Two Syrians have fled the war. Another Syrian came thanks to a scholarship to study in the magistracy. Latvian first came to higher education, but met a Korean woman and decided to settle with her in Estonia. The girl from Argentina was brought here with experience of stay in Tallinn and respect for the history of Estonia. The Russian was captivated by the local beauty and the desire to place here as an artist. The American came because of the presence of Estonian citizenship and interest in their roots.
Comments
comments