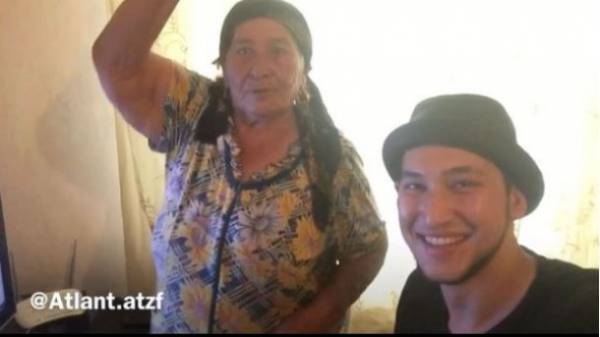 78-the summer pensioner Mariam Amrieva from Kazakhstan got famous in the Internet due to the rap, which she joined forces with her grandson Dilshod Ibragimov.
Videos with his grandmother, the guy publishes in Instagram.
On a related tandem drew attention to the publication by BBC News and interviewed the grandmother and grandson.
According to them, they put the tracks together and put them into the social network. The Dilshod, as a rule, asks the grandmother questions on current topics, for example, on pensions, and she meets him on the rap jargon. For example:
— Well, grandma, how are you?
— Went to the post office and took a pension.
— Bought something delicious?
— I have no dough!
The Duo makes fun of the traditional relationship of grandmother and grandson, and especially the life today's retirees.
#Рэпсбабушкой4 Meet the new track From grandma ))Nigga ===================================== Friends do #repost ,put ,Write komenty ,Celebrate your friends ===================================== @maryam_apa @atlant.life ===================================== @insta_zhuldyzdar_kz @instavideo_kz @insta_zko @instavideo_kaz @insta._kz @insta_prikoli @100baksoff @instavideo_extreme @instavideos.kz @instavideokz @insta_juldyzdar_kaz @instavideos_almaty @instaman_kz @instaonline_video @dubsmash_almaty @dubsmash_kaz @dubsmash_cityalmaty @dubsmash @dubsmash.dag @dubsmash.kazak @almaty_dubsmash @dubsmash.kz13 @dubsmash_videokaz @dubsmash_planet @dubsmash_inkz @dudoser @kazpress @kazakh_video @kaztwitter
Comments
comments