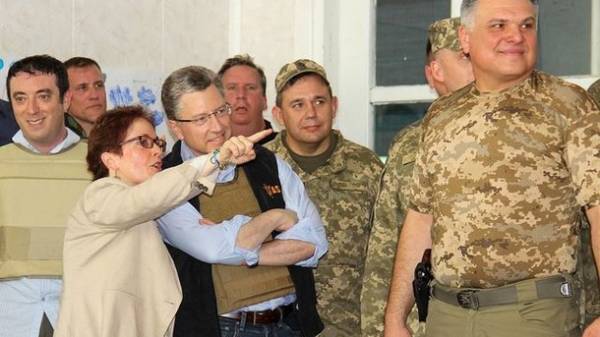 Special representative of US state Department on Ukraine Kurt Volker at the meeting with Ukrainian parliamentarians have reported that the results of his visit to the Donbass Western partners will determine future steps aimed at peaceful settlement of the situation.
According to the press service of the Verkhovna Rada in the beginning of the meeting, Walker, who had just returned from the zone of armed conflict in the Donbass, shared his impressions of the trip: the terrible conflict in the hot phase, and not frozen, as it is perceived in the West; the infrastructure is destroyed, the OSCE mission does not have access to non-government controlled areas, ceasefire is being constantly violated.
"He also said that the results of this trip Western partners will determine future steps aimed at peaceful settlement of the situation", – is told in the message of Welcome.
See also: Walker on Donbas: "It's not a frozen conflict, and a hot war"
Walker also emphasized the need to maintain people residing in the temporarily occupied territories, so they know what is important for Ukraine.
As noted in the Volcker meeting with the Deputy Chairman of the Verkhovna Rada of Ukraine Oksana Syroid also took part Chairman of the parliamentary Committee on foreign Affairs Hanna hopko and member of the Committee on fuel and energy complex, nuclear policy and nuclear safety Alexey Ryabchin.
Read also: In Russia, commented on the arrival of Walker in the Donbass
Hopko stressed the need to strengthen sanctions against the Russian Federation and preservation of the unity and of the consolidated position of the US and the EU in this matter. According to her, since Russia understands only force, Ukraine and its Western allies have except for the sanctions to have in the Arsenal of instruments of pressure and other effective tools.
We will remind, yesterday at the Donbass arrived the American delegation, headed by Kurt Volker.
Comments
comments