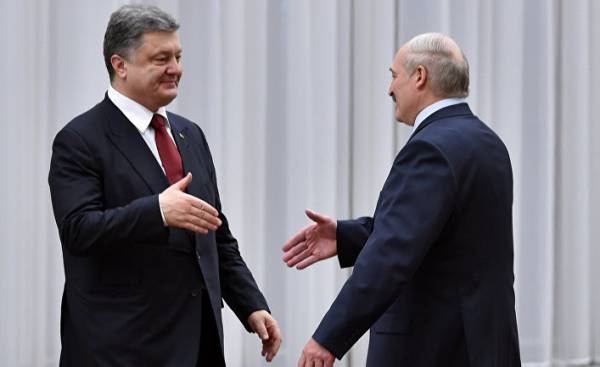 With an honor guard and the orchestra was greeted in Kiev, the Ukrainian head of state Petro Poroshenko, Belarusian President Alexander Lukashenko. Met the Belarusian leader is extremely solemn and warm: on the red carpet, with anthems of both countries, the greeting of the Ukrainian government in full force. As if Belarus is not a close partner of Russia continues its aggression against Ukraine, at the UN General Assembly was not among those 11 countries, which together with the Russian Federation voted against the UN resolution on the territorial integrity of Ukraine in March 2014.
Probably because not everyone was so pleased with the visit of Lukashenka to Kyiv. Thus, during the joint press conference of the presidents had an incident with one of the activists Femen, who bared his chest with the inscription "long live Belarus!" Later, the organizer and the leader of movement Anna Gutsol explained this action: "hundreds of Ukrainians have died and continue to die for democracy and freedom of Ukraine, but today, at the official level in our country take the person who is in their country killing, kidnapping people and suppresses all dissent".
However, despite the incidents, following the meeting in the presidential Administration from heads of state, made a series of important statements. Perhaps the main of them was the assurance of Alexander Lukashenko that the Ukrainian-Belarusian border will never be a border war, said Poroshenko.
"Thank you for your support today, when I once again received assurances from you, Mr. President, that the territory of friendly Ukraine, Belarus will never be used for aggressive actions against Ukraine, and the Ukrainian-Belarusian border will never be a border war," — said the Ukrainian leader.
Poroshenko also stressed: "This visit is a further and important confirmation of our good neighbourly relations based on the principles of equal partnership and trust. I will say more — this visit is not just a reliable partner but also a good friend of mine and of Ukraine, who is always ready to support us".
However, interviewed by "Glavred" the experts are in no hurry to talk about the relations between Ukraine and Belarus as a "great good friendship" — in their opinion, it is rather a pragmatic calculation that have both countries.
In turn, the President of Belarus has promised to promote the settlement of the conflict in the Donbass, and said that he is ready to do all that he will instruct the presidents of Ukraine and Russia. "I want to speak briefly about his position once again, she has not changed in relation to the conflicts taking place in Ukraine. You have to understand, I never set a goal to get ahead of ourselves or rush "forward batko in hell", as we have in Ukraine, Russia and Belarus say," — said Lukashenko, adding: "I am done, are doing and will only do what I'm asked two presidents. I was instructed by Mr Poroshenko and Vladimir Putin to arrange the meeting in Minsk, this is not my initiative. I was told how to do it, I did it. No complaints."
In addition, we discussed and reached some agreement on economic and energy issues. In particular, Poroshenko confirmed Ukraine's readiness to resume electricity supplies to Belarus, which was stopped in 2014.
Experts in an interview with "Glavred" explained what it is important for Ukraine cooperation with Belarus, and why Ukraine needs Lukashenko, given his close ties with Russia, what's his diplomatic and political game.

Political analyst Alexander paly:
Ukraine needs Belarus and important because we are interested in the independence of the state of a neighbor. Perhaps, the Kiev — second, those most interested in it, after the Belarusians themselves. It is important for Ukraine that Belarus has not been used for aggression on the part of Russia and ensure that its territory was not established Russian military bases.
In turn, Ukraine Lukashenko to rely on our country, showing, thus, of Russia, that he is sovereign and the world — that he is able to pursue policies independent from Russia. In addition, he seeks to demonstrate to Moscow that in case of any encroachments or statements against him, he can rely on to Kiev. This game goes with him. Lukashenko is fighting for survival — his own and his state.
At the same time is preparing for joint exercises of Belarus and Russia "West-2017", after which Russia may leave the territory of Belarus some military bases or even attack Ukraine from Belarus, without even asking the consent of Lukashenko.
All can be, because Putin realized that by Donbass fails to destabilize Ukraine. He may want to achieve the destabilization from the other side. However, it will cost him quite dearly and will end with the collapse of Russia. He plays another small victorious war, like the one that Russia carried out before the First world war, before the Russian-Japanese war. You know, it all ended.
The main talks between Poroshenko and Lukashenko devoted to security issues. This is a key moment. Lukashenka is trying to convince Ukraine that Belarus will not become a source of destabilization and a springboard for attack on the Ukraine. We understand, however, that while Belarus is holding us back, first of all, the interest of Lukashenko.
But, on the other hand, if Russia decide to attack Ukraine from the Belarusian territory, Lukashenko is no one to ask will not be much.
Lukashenko in Kiev had a very solemn and warm welcome, first of all, because Ukraine is interested in good relations with Belarus, its independence. It is near to the Ukrainian people. And independence of Belarus — is a strategic interest of Ukraine.
Of course, seeing such footage, the Kremlin will start to get nervous. But the Kremlin was constantly nervous because of Lukashenko. You may recall a number of campaigns against the Belarusian President, conducted the Kremlin. In particular, in 2010, was a television story, when all Russian TV channels showed that Lukashenko "mosaic psychosis" that he is completely inadequate, compared him to Hitler. It was after Putin thought he already took Ukraine through Yanukovych. Then he started very powerfully to put pressure on Belarus.
In principle, Lukashenko should oblige that Ukraine survived. It's in his best interest.

The head of the Board of the Center for applied political studies "Penta" Volodymyr Fesenko:
Belarus is afraid of Russia than Ukraine. Yes, Ukraine has become the victim and object of Russian aggression Lukashenko is not such a situation, and it seems he is an ally of Russia. However, the sense of danger in 2014, and Belarus, and Kazakhstan is present and sufficiently serious.
Besides, the Belarusian leader is extremely dependent on Russia, and it bothers Lukashenko. By maneuvers with Ukraine and with the West Lukashenko, first, creates some counterweights, a little blackmailing Russia, knocking her save different preferences for the Belarusian economy. Second, by a double play Lukashenko retains for itself the ability to maneuver, not to be too dependent on Russia.
In addition, there is also a banal common interest in maintaining good neighborly relations between Ukraine and Belarus. After all, for Belarus Ukraine is one of the main economic partners.
In addition, both parties are interested in maintaining the security of the Ukrainian-Belarusian border. But — for different reasons: we are afraid that after the border opened a new direction of Russian aggression, and Belarus is interested in using this border was not carried out the export of revolutions from Ukraine to Belarus.
This is the explanation of why Lukashenka is their game — not only diplomatic but also political. For him, it is an economic and political interest. Thus, it provides a certain distancing from Russia and the preservation of at least the relative autonomy of its foreign policy.
Of course, we cannot say that Lukashenko — the most intimate friend of Ukraine, because it is not true. There is a certain duality relations of the Ukraine to Belarus and Belarus to Ukraine. This is due to the fact that Belarus has allied relations with Russia and Ukraine is focused on the European Union.
Besides, to have value differences, and huge. Because here the countries do not have any "great friendship." But — there is a pragmatic calculation that is associated with the fact that both sides are interested in such contacts.
Well, there is some personal psychological component associated with the fact that at the time, Poroshenko praised Lukashenka's arrival to his inauguration. On the part of Belarus and Lukashenko, it was a recognition of Poroshenko new President of Ukraine, recognition of the new Ukraine. Because not all post-Soviet countries at the inauguration Poroshenko was represented at the highest level. But Lukashenko came. So Poroshenko, the gesture is appreciated and responds with gratitude.
The meeting in Kiev — this is the fifth meeting Poroshenko and Lukashenko at the highest level, and is a confirmation of the very close relations between the two countries. However, in this case the main thing is not values the relationship, which in fact is not, and a pragmatic calculation of the ordinary and common interest in fostering good bilateral relations, especially in the economic sphere.

Director of the International Institute of democracies Sergey Taran:
For Ukraine Belarus is important primarily for strategic reasons, because theoretically its territory can be placed Russian troops, and we have a huge common border. Obviously, we can't be worried about it. It is important for Ukraine to have at least some confidence or minimal dialogue regarding the reduction of Russian military influence in the North of our country.
Of course, between Ukraine and Belarus has more economic cooperation, but economic issues in this case are secondary compared to strategic issues such as security.
In turn, Ukraine needs Belarus because Lukashenko is a "plan B" by which it can reach the West. At the time, the same partner for Ukraine was Poland, which was the bridge between the Kuchma regime and the West. And now Ukraine can become a bridge to the West for Belarus.
Moreover, Lukashenko's important to show yourself as a real player and not just the person who does only what he will say Russia. Because his own policy is extremely important to enhance his own status in the international arena.
So in the Belarusian-Ukrainian relations, are the main strategic issues of geopolitics and security, and much less in their economy and humanitarian issues.
Of course, looking at the pictures of the warm meeting Poroshenko and Lukashenko in Moscow nervous. The Kremlin, of course, is not happy with this story. Because the pressure from Russia will be primarily on Belarus. After all, Ukraine is more to push it is impossible — we have a war. But against Belarus it is possible to expect any actions of the Russian Federation due to irritation of the Kremlin.
Comments
comments