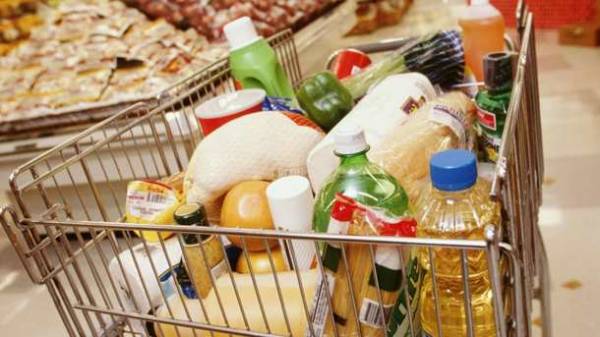 The life of Ukrainians is steadily going up — according to the state service statistics for 6 months of inflation was 7.9% and for Jan-Jun 2017 prices rose by 13.8% compared to the same period in 2016, the Economists said that in June inflation accelerated in comparison with may, to 1.6% on month vs. 1.3%, although usually the opposite. In the fall they predict a rise in prices of petroleum products and basic foods, except vegetables.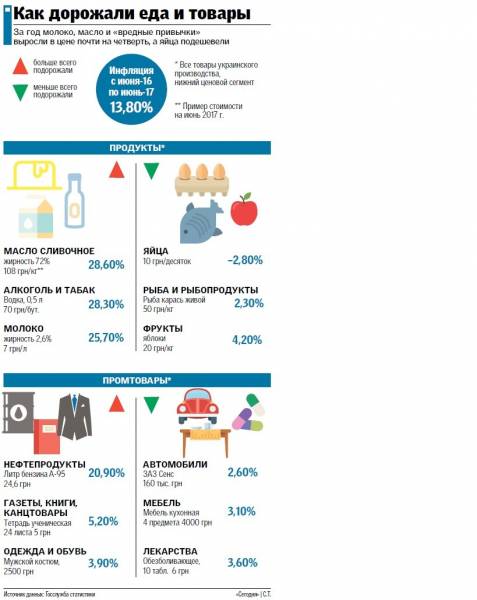 PRICES AND WAGES. As you can see from the infographic, over the year, the most expensive milk, butter, cigarettes, and alcohol, increase their value amounted to 25-28%. As explained to us the Director of the Association of retail suppliers Oleksiy Doroshenko, "bad habits" grew in price due to the constant increase of excise taxes on them by the state, and milk — because that continues to decline in the livestock population. 12% increase for the year and meat prices.
The reasons, according to Doroshenko, two — decrease suggestions on the market and a pending price hike, because last year, meat prices grew twice slower than inflation. At the same time, eggs are still the most affordable product, they are even cheaper than a year ago. Of manufactured goods have risen dramatically in price only oil products — 21%, or 4.3 UAH per liter of gasoline. Everything else went up by 3-5% or less.
Energoekspert Valentin Zemlyansky reminded that the price of fuel, 85% of which is imported, we depend on the dollar exchange rate and world oil prices. Both a year ago it was cheaper by about 20-25%. But the small increase in prices of other manufactured goods, such as clothing, electronics, expert explains lack of demand.
FORECASTS. Experts promise that in autumn only the cheaper vegetables and apples of the new harvest by 20-30%, for example, a kilogram of potatoes will cost you 4 UAH (now 6-7). "The reason for this high cost is due to the cold spring the harvest of early vegetables late, but the decline in prices has already begun," — says the analyst of the Ukrainian agrarian Confederation Dmitry Dane.
Doroshenko expects in the second half of the meat will rise in price a few hryvnia per month, and gradually prices will rise another 20% (up to 120-130 UAH/kg). Zemlyansky predicts that the fall will increase the cost of fuel is about 1-1,2 UAH/l, as it is expected that the dollar will rise.
Comments
comments