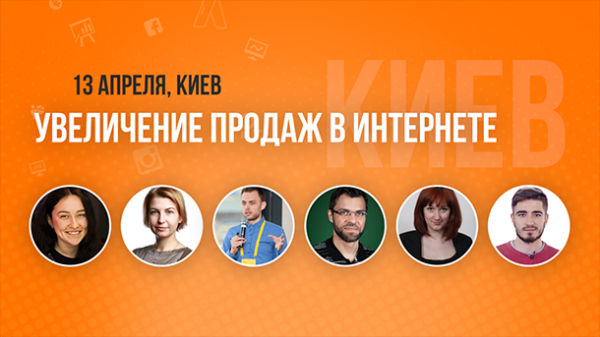 13 April in Kiev will host a free seminar for business promotion in the Internet, organized by the Academy of Internet marketing WebPromoExperts and UniSender.
You will learn how to quickly increase the number of applications, as in the long term to attract cheap traffic and new customers. How to collect maximum information about visitors of the website, analyze it and make the right decisions for improving the site or the entire business.
You will be a useful workshop if You:
get your business online.

already working online, but want to improve their business and profitability.

just want to speak with your contractor in the same language, with the ability to understand the effectiveness of his actions, if you just set a goal to increase their Internet marketing literacy and life hacks to hear from the best practitioners of the lecturers in this area.
The detailed program of the seminar:
14:10 — 14:30 "Mandatory set of tools for online promotion". Case "WebPromoExperts". Olga Onikienko
tools for competitive analysis;

assessment tools efficiency and intelligence;

analysis tools target audience;

tools improve the site;
14:30 — 15:00 "Mobility business in the Internet as the key to its success" Andrew Lipattsev, Google
overview and statistics on Mobile;

the website loading speed as one of the important factors of Google's success;

tools to improve mobile sites.

AMP and PWA to business as the most modern tools mobile representation;
15:00 — 15:30 "Advertising in search, as the fastest source of customers," a representative of Yandex
opportunity search advertising;

targeting in advertising;

logic optimization of advertising campaigns;
15:30 — 16:10 "Comprehensive attraction and retention of audiences via subscription" Marina Ryzhko Email marketer UniSender
where to store the database and keep customers;

to quickly create a website and landing page;

communication services: chat on the website, collaci and popup;
16:10 — 16:20 coffee Break
16:20 — 16:50 "Sales through distribution" Alice Kirichok, UniSender
how does effective email newsletter;

what to do not to get into spam?

the power of automatic emails;

the history of successful mass mailing.
16:50 — 17:20 "Social networking for business" Sergey Jalapa, WebPromoxperts
overview and statistics of social networks in Ukraine;

strategy of business promotion in the social. networks;

both free and paid SMM tools;
Read more
Additional information
For 4 years the Academy has conducted 76 free seminar on integrated Internet marketing, which visited 11 953 people. At these seminars for 3 hours talking about web Analytics, SEO and contextual advertising.
The seminar will be held April 13, 2017 at 14:00 at the below specified address:
Kiev, street Khreschatyk, 2, "Ukrainian House", the European area
To register for the seminar
Comments
comments