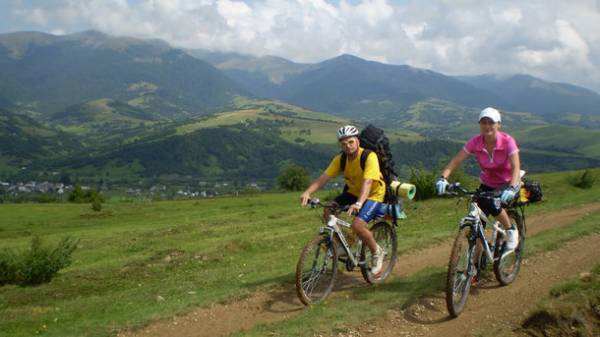 Many still believe that the best vacation in the mountains in winter. But this is not so. Clean air, nature and the sun's heat create the perfect conditions for a summer vacation. In the Ukrainian part of the Carpathians there are many unique places to go on vacation. Depending on the place, the rest will be different from the treatment of waters to relax in the mountains.
The Carpathian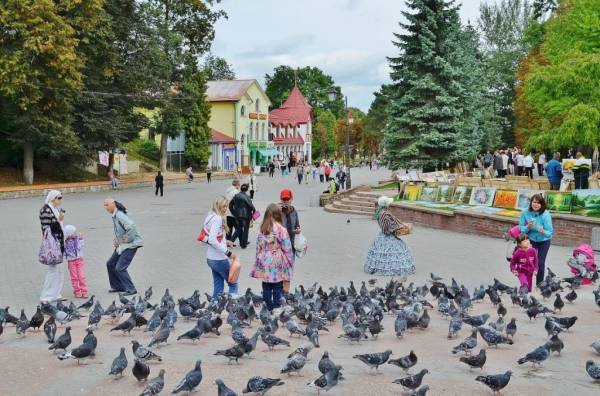 Truskavets. Photo: archive
Mountains in the Carpathian mountains are not too high, but the air is fresh and clean. Business card of this place is Spa resorts in Truskavets and Morshyn. In Spa resorts all year round many tourists who come to the local resorts and sanatoriums because of the mineral waters. The infrastructure of these cities adapted to a large number of tourists, so finding accommodation is not difficult. Before the great demand at the sanatorium, which in addition to accommodation of tourists receive good nutrition and medical treatments. Now these options offer and private pensions, hotels and villas. Furthermore, you can just rent an apartment in the city, and then come to the doctor for a consultation (if you are going to drink curative mineral water and a doctor's consultation is desirable).
The hotel standard double room can be rented at a price of 520-600 hryvnia per day. In most hotels room rates include any meals or Breakfast, doctor's consultation and some procedures. However, living conditions every hotel is different. In small boarding houses double room can be rented for around 300-600 USD per day. The cost of one-bedroom apartments in the range of 180-300 hryvnia per day.
See also: Ideas for relaxation: the most interesting lake in Ukraine
Ski resorts in the Carpathians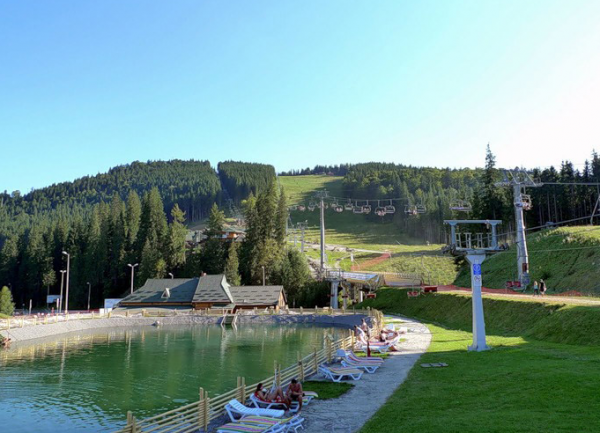 Lake in Bukovel. Photo: uk.wikipedia.org
Summer vacation in ski resorts is another way to spend a vacation. Forests, mountain rivers and lakes, clean air and bright sun will suit both lovers of active holidays and those who just want to enjoy a unique nature. Choose a place to stay in the tourist part of the mountains, for example, in Yaremche town or village of Bukovel, Vorokhta, Yablunitsa, not working – there are plenty of hotels, private villas and small hotels.
Double standard room will cost 400-700 USD per day, but there are economical alternatives – for example, a room block with bathroom (one for two rooms) costs 250 UAH per day. Rental houses also no problems. The cottage is fully equipped for up to eight people, will cost 1000-1800 hryvnia per day. For smaller companies cost up to 1000 UAH per day.
See also: Where to go: unusual places in Ukraine
Transcarpathia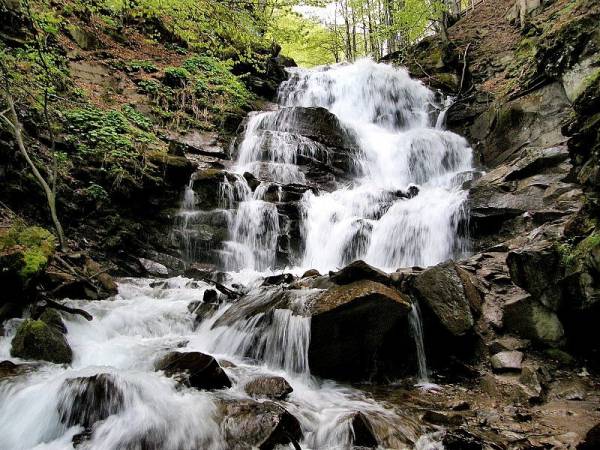 Shypit waterfall near Pylypets village. Фото:uk.wikipedia.org
Transcarpathia is famous for not only its interesting history but also a mild climate, mineral and thermal waters. In this part of Ukraine is also a lot of resorts, lodges and boarding houses. For example, near Pylypets is a unique source of naturally carbonated mineral water used for treatment and baths in diseases of the digestive system, cardiovascular system, and anemia and gynecological problems. Near the village is one of the largest and most beautiful waterfalls in the Carpathians – Shypit.
Another popular resort in these places – Solotvino with its salt lakes. The water is useful for the treatment of diseases of the nervous system, radiculitis, pleurisy, arthritis, skin diseases. And the waters of the resort of Shayan, the composition is very similar to the "Essentuki", "Narzan" and "Borjomi", which is useful in diseases of the liver, gastrointestinal tract, biliary tract.
Average standard double room at the hotel in this region is from 350-700 hryvnia per day, and the guest house – 175-300 hryvnia per day.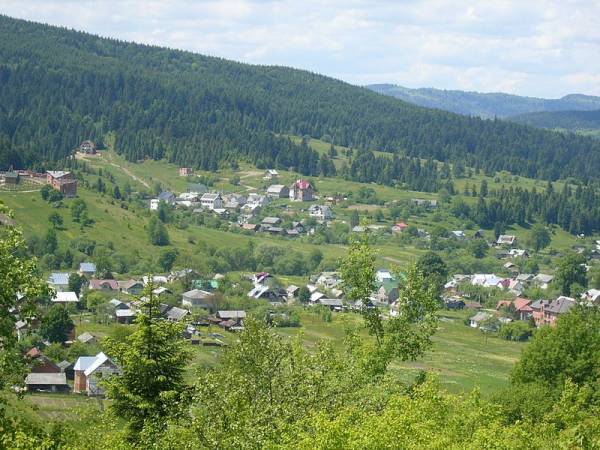 Skhidnytsia. Photo: uk.wikipedia.org
Carpathian mountains are famous not only for its ski resorts. There are also many resorts aimed at treatment of diseases of nervous and cardiovascular systems, respiratory system and gastrointestinal tract. For example, sanatorium "Mountain Tisa", in the village of KVASy (Rakhiv district, Transcarpathian region) specializiruetsya for the treatment of diseases of the spine and joints. Double room will cost 1,750 USD per day the price includes food and basic treatment program. In the village where there is a Deposit of various mineral, a double room in the sanatorium "Stozhary" – from 650 UAH per day the price includes food and treatment.
Read also: Ideas for vacation: how much to relax in the resort
Comments
comments