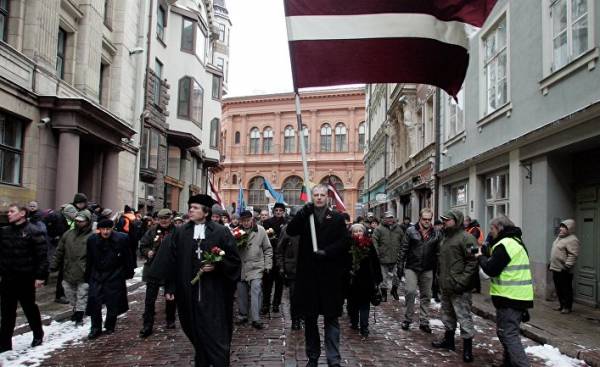 Not yet subsided scandal with the placement on the NATO website of the movie "Forest brothers. Battle for the Baltic", which positively shows the Nazi collaborators in the military cap of the Wehrmacht and German in arms, became known as the new sensational details.
As it turned out, the film took an active part in military re-enactors from the Association "Latvian soldiers", including the famous "SS from the kindergarten" Normunds Enums. The same man who 5 years ago were already in the center of an international scandal. Recall, as reported by a news portal Mixnews.lv March 16, 2012, the day of the annual SS marches in the centre of Riga, the Latvian children of the kindergarten "Sovushka" came the guests from the Association "Latvian soldiers", Normunds Arums and Ivo Lembergs. They were dressed in SS uniform and gave the children to play with German machine guns MG-34 and other German small arms and grenades. In this lesson of "patriotism" was attended by radically-minded member of the Saeima, Imants Paradnieks, whose worldview fits into the slogan "let's Send the Russian to Russia."
The scandal has gone beyond the borders of Latvia, wrote about it in numerous media outlets, not only in Russia but also in Israel. The security police of Latvia conducted a special inspection on this fact, however, as usual, found nothing reprehensible in the activities of SS fans.
And what's next? Now it turns out that "SS from the kindergarten" Normunds ERUs during the scandal in 2012, was a member of the state police of Latvia, about what the Ministry chose to remain silent, hiding this fact from the public. Moreover, ERUs quietly, despite his SS Hobbies, to this day continues to work as a Latvian COP.
And that ERUs became one of the organizers of the filming of NATO about the "forest brothers". So now, a few sad, in Latvia ironically say: "NATO, the state police and the SS uniform, and therefore invincible."
As previously reported by the Fund "Historical memory", the "forest brothers in Lithuania have destroyed 25 thousand 108 civilians, mostly Lithuanians, including women and children, in Latvia — 2 thousand 208 people, in Estonia — 887. So not joking.
Comments
comments