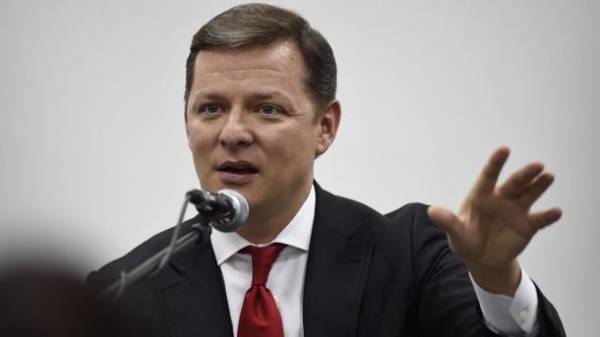 "Radicals" demand public discussion of pension reform and the issue of sale of land
This was at a meeting of the conciliatory Council in the Verkhovna Rada declared the head of fraction "Radical party" Oleg Lyashko.
"That bothers people? The so-called pension reform and land reform. I believe that now makes power in a secret mode of making these so-called reforms, secretly from people is a crime. The government said may 16 there will arrive IMF mission will show them a draft pension reform, and then tell people. It is the Ukrainian government or a branch of an International monetary Fund? I believe that the issue of pension reform, which affects the interests of millions, without exaggeration, the Ukrainians, should be discussed publicly by consensus with the involvement of trade unions, employers, different political forces, employees… Because this applies to every Ukrainian. Therefore, before the government will present or the International monetary Fund, or whatever the project, start to show it to Ukrainians," – said Lyashko.
According to Oleg Lyashko, before its introduction into Parliament of a draft on pension reform, it is necessary to discuss with the people. "That every man knew how many years you have to work to receive a normal pension? What will this pension? When we talk about increasing the contribution period retirement age, so what is the purpose of the pension reform? To raise the retirement age, not to pay people pensions? Or pension reform for the sake of man, who all his life worked hard, received a normal pension? If such a goal, we are allies," – said Lyashko.
And the second question, according to the head of fraction "Radical party", – it land. According to Oleg Lyashko, the faction opposed to the introduction of the right of sale of land with/x destination. Therefore, the Radical party registered a draft of amendments to the Constitution that will recognize the basis for the agricultural system of Ukraine farm.
Recall that in Ukraine on 16 may there will arrive representatives of the International monetary Fund (IMF), which will be submitted the draft law on pension reform.
Comments
comments