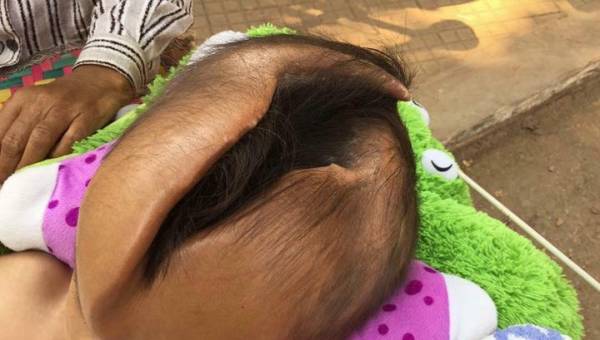 A resident of Cambodia Petra Stand was born with a huge crack in the skull, which is growing every day. Now the boy is six years, the local doctors don't know how to help him. You need expensive treatment, to which his parents have no money, according to the Sun.
The boy's mother says doctors did not attach much importance to the fact that her child was born with a crack in the head.
"We go home, saying he did not know how to help. Perhaps the gap will grow herself, told the doctors," said the mother of the patient, a 40-year-old SREI, which earns from 10 to 25 dollars a week, begging for alms in the local Church.
The woman's husband left her as soon as she first saw her newborn son. Woman forced to raise a child alone.
"The crack in the head son is so big that I could fit in her palm. We help charities, but their medicines only ease the pain, and nothing more" — she added.
Earlier it was reported that 23-year-old resident of India Shabana Khatun gave birth to two-headed baby with three hands. Unfortunately, a two-headed child lived for the day.
Comments
comments