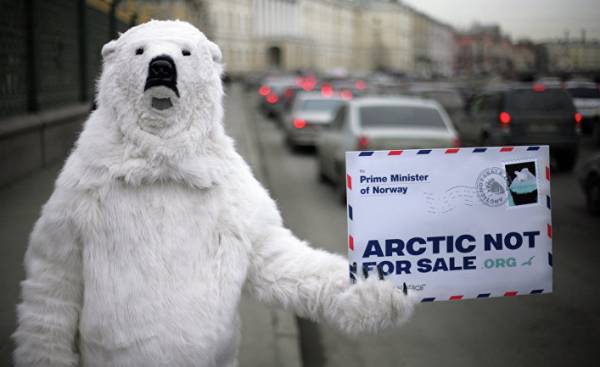 The international organization "Greenpeace", which in September 2013, staged a protest in the Barents sea to draw attention to environmental issues in the Arctic ocean and to protest Russian oil exploration work, was prevented by the Russian military forces.
Russia, which detained belonging to the "Greenpeace" ship called the "Arctic Sunrise" and the 30-member crew in the Barents sea, was later released on bail the entire team. Four years later, Russia, to which the Netherlands filed a lawsuit in the Hague Tribunal (the ship sails under the Dutch flag), was ordered to pay a total of 5.4 million euros. The court ruled that Russia had violated the UN Convention on the law of the sea.

"We're worried about the world"
Akhan gizem (Gizem Akhan), the only citizen of Turkey on Board the "Arctic Sunrise", which for 63 days was in Russian custody, said the court decision for Milliyet:
"One of 30 activists of the "Greenpeace" do not chase the money and compensation. The good side of this case is that the court recognized our right and were disciplined Russia. Very well that a peaceful protest action, which we held for the future of the globe, ended. On Board were volunteers from many countries, such as Canada, Brazil, Denmark, Finland. Our only concern was to protect the world and to draw attention to existing problems."

"Russia does not pay"
Akhan noted that over the four years of the trial, Russia did not sent a representative to the Hague. "The Russian was not even on the first hearing. We think that they will not agree to compensation. There is damage to "Greenpeace", the costs associated with the operation of the "Arctic Sunrise", the costs incurred by the Netherlands. There are still payments for legal operations that have to be compensated, the costs of arbitration, Bank guarantees. If the compensation will be paid, the crew will get 600 thousand euros and this amount will be divided among 30 members of crew", — said the young activist.
"I would go again"
Gizem, reported that she is an activist of "Greenpeace" for 11 years and would like to carry out actions to protect the environment, said: "After returning from Russia, I wanted to go to the new flight. We have to postpone because I had a baby. In the future I again would like to take part in the stock".
Comments
comments