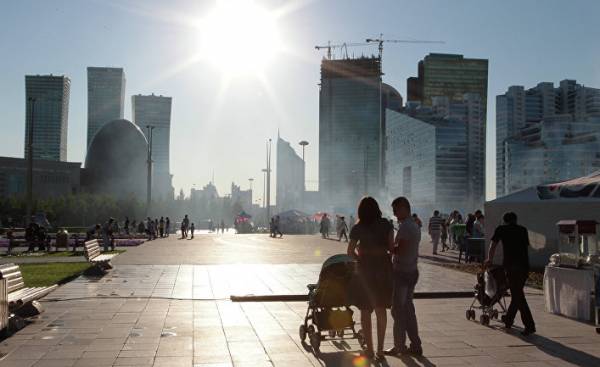 Probably, Alice Nurgaliyev and Zhanibek Sarsembayev — the biggest optimists in Kazakhstan. At least they have a firm faith in the future and your own opportunities.
However, they chose different paths: Zhanibek wants to stay at home, and Alice is planning to go abroad.

The attitude is depressing
Alice Nurgaliyev — 24-year-old TV presenter, who has worked as a presenter at many public events. She feels that the professional development she had to go abroad.
"I can't imagine myself at home in Kazakhstan. Here many too outdated view of the world, the other is easy to condemn," she says.
According to Alice, the sphere in which it operates, is more developed in other countries, e.g. USA, Canada or Australia. She wants to go to some of these countries to study acting and television.
"To get started, go to learn, establish contacts and find a place of work," says Alice.

If you're going to work will succeed
She believes that if you do well and you work hard, will succeed anywhere. She's not afraid to miss home.
"I used to live abroad. At home I do not get bored, but missed the people," she says.
One of the reasons why Alice wants to leave Kazakhstan lies in the fact that she is a lesbian. She has a friend she wants to start a family.

Beat due to the fact that she's a lesbian
In Kazakhstan towards sexual minorities are quite critical. Alice even came under attack.
"I have a strong character, and I was able to answer the same," she says.
Alice says that at the age of 14 years feel attracted to women-but took his only feature two years ago.
Her parents were initially shocked but later accepted the situation and support Alice.

The engineer changed the profession
29-year-old Zhanibek Sarsembayev is in a different situation. He has a wife and two daughters. By education he is an engineer. He studied in Kazakhstan, and Malaysia and works as a programmer in the oil industry. By profession he worked for three years, and then decided to start their own business.
First, Zhanibek had planned to open a pizzeria, but his parents were against it. He became interested in the manufacture of Handicrafts and began to make leather belts on the drawings at home.
Gradually, the production expanded
Belts sold well, and Zhanibek decided to expand production. Now he has four workers and they make up to a hundred belts a day.
In Kazakhstan industrial production-developed bad. With the collapse of the Soviet Union the factories were abandoned, and now and working methods, and production machines obsolete.
"Even it's hard to find professionals who can repair and maintain production machines," says Zhanibek.
The company's products are sold through a network without intermediaries, so prices remain reasonable for buyers.
"It is important that the quality was good, and the price is such that people can buy our belts," says Zhanibek.
Strong belief in the future
Opening his small factory, he did not take credit. It gradually develops business as soon as receives money from the sale. According to him, such a small company can't get government support.
The face of the earrings radiates satisfaction and faith in the future. He is convinced that working hard, you can succeed.
"Very rich I probably wouldn't, but to the international brands of the company will be able to grow," he says.
Family and love
For Zhanibek, it is important to stay at home, because that's all his family. The most important thing for him is family. The first letters of the names of his wife and daughters gave their name to the enterprise, "ZAF".
"I want to be with their parents, family, relatives and friends. This is the most important thing in life," says Zhanibek Sarsembayev.
For Alice the her, have been shown close is also very important.
"But the most important — yet, love," she says, smiling.
Comments
comments