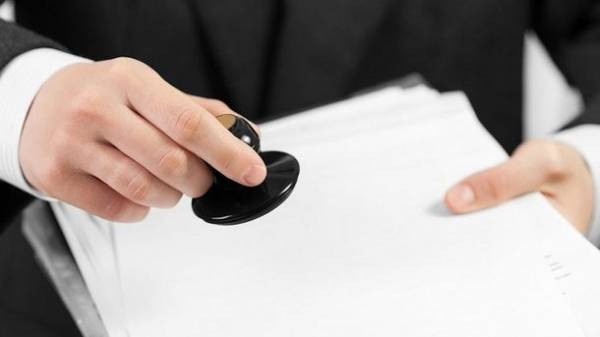 On July 19, the print became unnecessary in the conduct of business in force a law abolishing the mandatory presence of "wet" stamp on any official documents — just the signature of the Director of the company or persons authorized by him. Only for government agencies, nothing will change, except that now the officials are not entitled to demand from private companies the availability of a document under threat of fines — 850-1700 UAH.
And issued on behalf of the state documents should still be sealed, except for extracts from electronic registries. Experts say that the complete abolition of the "stamps" will not, but gradually people will sometimes forget to use them.
WHY CANCELED. According to the head of the Verkhovna Rada Committee on entrepreneurship Victor Galasyuk, prior to the adoption of the law was not clear, in some cases, the printing is needed, what is not. For example, if the company has a seal, it is obliged to use it in the paperwork. Although in article 58-1 of the commercial code States that a business entity "may have", not "must have" print. And the procedure for its use shall be governed by the written agreement of the parties.
But this rule worked poorly, since, for example, physical persons-entrepreneurs print had and often had to prove the legitimacy of the signature of the Director and other authorised persons, giving business partners a notarized samples of signatures. Galasyuk considers that the full removal of the seals will simplify the business activity of the enterprises and reduce the number of court disputes.
According to lawyer Vladimir Stolichnago, after the abolition of the permit system of the Ministry of interior, when the print any print recorded in spaccarotella, the legitimacy of the seals was actually lost and their undoing was only a matter of time.
BUSINESS. As we discovered, the most advanced structures using the electronic form of doing business. "I'm for the abolition of stamps, because now the most reliable way to confirm the authenticity of the document — require an e-document with an electronic signature", — told us the owner of IT-company Yuri sivitsky.
But in a major construction holding, we said that print at the conclusion of contracts with investors in housing, they still intend to use "solid". Yes, and with suppliers, particularly in the contract for the first time, they will ask to confirm the legitimacy of the document the old fashioned way.
EXPERTS. Economist Ivan Nikitchenko says that the complete abolition of the seals is still far away, but it will give impetus to the development of electronic document circulation in Ukraine.
As managing partner of the law firm, Gleb Segid advises: "in Order to protect themselves from fraud, first, it will be necessary to check carefully whether the person is authorized to sign the appropriate documents. To protect yourself from scams signatures or business partners, you can resort to the procedure of dual signatures on behalf of the company (e.g., CEO and accountant). But the basis of safe business is a well-functioning judicial and law enforcement systems that protect honest citizens from fraud. And in this question Ukraine is still very far from the EU and the USA, and not due to the presence or absence of seals."
Comments
comments