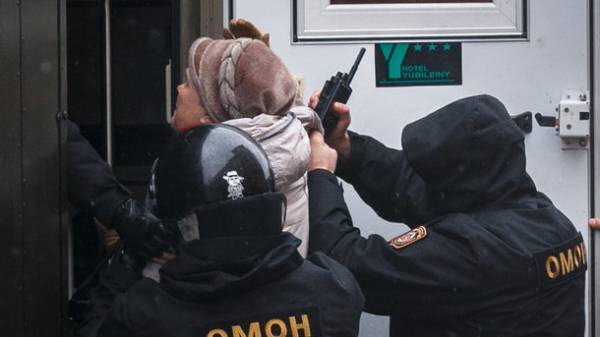 According to human rights groups, over 700 detainees during the action dedicated to the freedom Day in Minsk. Most people brought in the Moscow and Soviet district police Department. After the 17.30 (16.30 in Kiev) people started to release from police, writes the local edition Tut.by.
According to human rights activist Anastasia Loiko in Moscow RUVD delivered about 170 people, the Soviet — 170, Factory — 100, Leninist — 150 people.
According to the information of the unregistered human rights centre "Viasna", in the militia Department left 30-40 people. The rest were released.
"Unknown, did people in all of the police Department," — says human rights activist.
Only in Minsk nine active-duty units. As reported in the police Department of Tsentralny district of Minsk, they have not arrested. In the militia Department — one detainee.
Human rights activists report that evening, after drawing up protocols for violation of order of organizing and holding mass actions of the detainees started to release from the police Department.
In particular, from the duty of Leninsky district released almost all minors.
"The criteria by which release, it is difficult to determine. But among them there are people who have had their documents with them," says human rights activist.
Several people were released from the Maskouski district police Department. First on the liberty was retired, minors and journalists.
Around 17.30 (16.30 CET) from the Moscow police Department has released the pensioner Natalia. According to her, she and a friend just watched the action in the area of TSUM.
"We, like the rest of the onlookers, just watching the action. And then we were bundled into a paddy wagon and brought to the police Department. About an hour we are here in the courtyard stood on the street in the rain. My passport has worn. All things taken away, they hung the labels with the names, — Natalya told. — Then began one by one to pick up from the street to the building. There drew up a report, took fingerprints and let go."
"Spring" reports that some detainees have already received 12 days of administrative arrest. This is Constantine, Ahramenko, Gleb Vikul and Sergey Kiyko. They were detained before the event began and was taken to Zhodzina.
We will remind, today in Belarus celebrate freedom Day. 99 years ago, was proclaimed the Belarusian people's Republic. The holiday is not celebrated on official level. In the authorities banned the rally in Minsk was attended by several thousand people. The action took place without the leaders of the opposition, ended in unprecedented brutal arrests.
Comments
comments