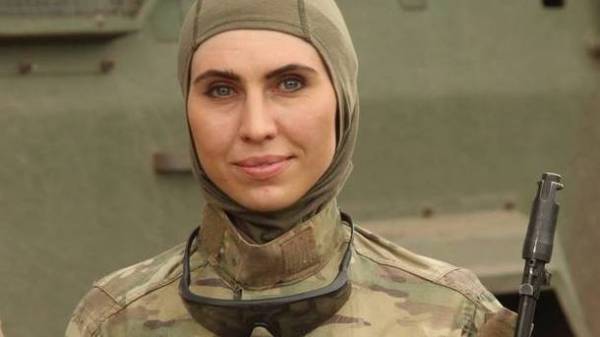 Chechen volunteer Amina Okueva has criticized the version of the killer of Arthur Denicotea-Kurmakaeva nicknamed "Dingo" about the assassination of her husband, Adam Osmaev. About it it is told in the comment "observer".
In her opinion, in version Kurmakaeva many misgivings.
"Like that "Glock" (gun – ed.) is not he brought us in a box "as a gift", as it was in the original version, represented by his attorney, and, allegedly, it's ours. Also, it turns out, for Chechens, whom he seems to assume his wife's surname – a common and quite normal thing, and a fake passport and is available for sale somewhere "between vegetable and fish series" Odessa "Privoz". But "Dingo" has confirmed that a journalist for Le Monde it is quite a seemed and told the public which of his many names he wants to be called," said Okueva.
See also: Okueva of gunfire with the killer: "He's a coward, yelling, "surrender, surrender"
In addition, it called nonsense version of that gun in "the gift" was wearing a Osman and that the killer has no relation to him.
"For example, even if a person has an illegal gun, then, firstly, why carry it in Kiev in the box, but not any more hidden way. And the main disconnect, who will be talking about him and his show unfamiliar person, and even foreign journalist?! Then to the foreign press wrote about the fact that in Kiev walking around with illegal weapons? With appropriate and the ensuing reaction of the local law enforcement… It would be, to put it mildly, illogical, and simply put, – Frank nonsense. Not to mention the fact that expertise as boxes, and the origin of the gun (and Glocks quite easily tracked) I hope that credibly show how it was actually," said a volunteer.
As reported, the killer Osmayev announced its version of the shooting. He denies the fact of the assassination and considers himself a victim. According to him, he fired six bullets, trying to finish after the injury.
Recall, June 1, in Kiev there was an attempt to combatants who served in the ranks of the police battalion "Kyiv-2", Adam Osmayev and amine Okueva.
Comments
comments