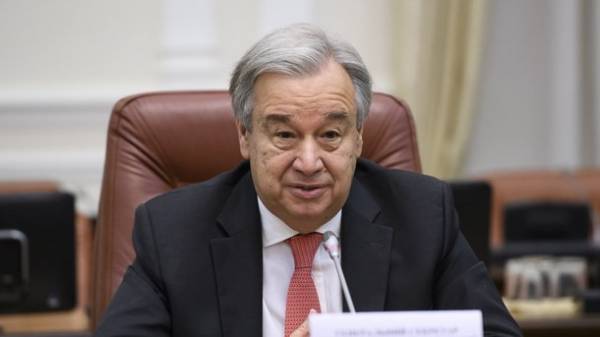 The Secretary-General of the United Nations, antónio Guterres urged all countries to cooperate in bringing those responsible for the tragedy of the crash of flight MH17 over the Donetsk region in July 2014. It is reported by the UN news Center.
"The third anniversary of the death of Malaysian Boeing, EN route flight MH17 the UN Secretary-General urged all countries to cooperate in bringing those responsible for this tragedy – as required by the resolution 2166 of the UN Security Council," – said in a statement.
"António Guterres is aware of the recent developments relating to the investigation of this incident. In the crash of a plane flying over Eastern Ukraine, killing all 298 people on Board," – noted in the UN.
Also the UN chief said he with all my heart shares the pain of the relatives of the dead passengers and crew.
As reported, the Boeing 777 Malaysia Airlines, carrying out flight MH17 from Amsterdam to Kuala Lumpur was shot down on 17 July 2014 over the occupied territory of Donetsk region. Killing all 298 people on Board. The passengers of the flight were citizens of 10 countries, most of the victims (196 people) are citizens of the Netherlands.
In July 2015, Russia vetoed the creation of an international UN Tribunal in this case.
See also: Minister of transport of Malaysia on MH17: We will not rest until justice is achieved
International joint investigation team presented 28 September 2016, the report said that the plane was shot down from territory controlled by the rebels Donbass Russian anti-aircraft missile complex "Buk", imported to Ukraine from Russia.
The countries participating in the investigation of the MH17 tragedy have agreed not to create a separate Tribunal and decided that the guilty will stand trial in the Netherlands.
July 7, 2017 Ukraine and the Netherlands signed the agreement on creation of legal grounds for the consideration of the case of MH17.
Comments
comments