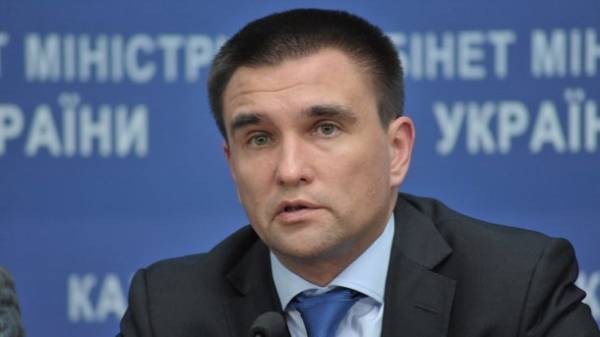 The Minister of foreign Affairs of Ukraine Pavlo Klimkin denounced the terrorist attacks on hotels in Egypt Hurghada, and also confirmed that there are no Ukrainians among the victims.
"The Consul on the spot analyzes the situation. According to the Embassy of Ukraine in Egypt, casualties among the Ukrainians there", – he wrote on his page on Twitter on Friday evening.
Klimkin also condemned the terrorist attack in Egypt.
"Condemn the brutal attack in Egypt. Condolences to the family and friends of the victims, speedy recovery to the injured. Cruelty cannot be justified", he added.
Earlier in Department of consular service of the MFA of Ukraine said that the information about the presence among the dead citizens of Ukraine is not confirmed.
"The Consul reports that as of 19:00 14.07. information about the death of Ukrainian in Hurghada (Egypt) is not confirmed", – informs the Department in the official account in Twitter.
Ambassador of Ukraine to Egypt Hennadii laty reported that a woman was wounded, Elena Mikhailenko, who was born in Ukraine, but is a citizen of the Russian Federation.
The press Secretary of the Armenian foreign Ministry Tigran Balayan reported that two Armenian citizens were injured in the attack armed with a knife men in Hurghada. "The attack resulted in Hurghada suffered two citizens of Armenia. They were hospitalized, received the necessary assistance. Perp in custody with one of the wounded of our compatriots," – said Balayan.
German media reported that the victims of the attack on foreign tourists in Egypt Hurghada became two citizens of Germany. "Reuters" and the journalist of the Washington Post reported that both the victims of the attack were tourists from Germany", writes in Friday night "Der Westen".
Earlier, Egyptian media, citing the interior Ministry reported that armed with a knife man attacked tourists at the hotel in the Egyptian city Hurghada: two people were killed, four were injured.
However, the website of the British newspaper "The Telegraph" reports that the dead are two citizens of Ukraine. "Two Ukrainian tourists were killed and four other tourists injured in an attack by a man with a knife in the Egyptian red sea resort in Hurghada", – said the newspaper's sources in the Ministry of internal Affairs and security of Egypt.
According to the publication, the assailant detained and interrogated about the motives of the crime. The victims are in a local hospital. Official information on the nationality of the victims at the moment yet.
According to preliminary information, attacked tourists people sailed on the private beach of the hotel with the public beach nearby.
Comments
comments