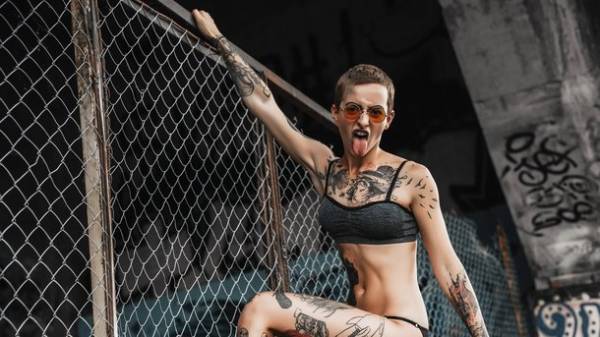 Today did not surprise anyone with tattoos or piercings, and even more unusual hair color. But there are people who still "cling" look and have got used to chulucanas behind and delight. Someone calls them "freaks" (the movement of people, characterized by unusual, extravagant appearance and unconventional worldview), someone-bodymodification (people who change their body through surgery, plastic or a biological correction: piercings, tattoos, implants, etc.). We talked with the outrageous Ukrainians to learn what it's like to stand out from the crowd?
PUSHED "POODLE". Ekaterina from Kiev-Stephanie Paul — sociable, cheerful and colorful girl. In childhood she decided that she will always be special. "I come from a small village in Central Ukraine, where stand out from the crowd is a challenge, says 19-year-old girl. — My hair is curly, because of what the kids at school called me a poodle. So I thought: if I react, then I will move in this way. At the age of 13 I made my first shocking hairstyle. At that time I was listening to DJ Skrillex. Singer cool look: long black hair, part of the head shaved, and tunnels in his ears. I dyed my hair black and shaved half a head.
First tattoo I got a month before the 15th anniversary, when I was already studying in 1st year of College. Instead of paint was… a paste of gel pens. Parents lived in another city, because didn't even know about my new hobby. When mom came to visit,
was just in shock! Then I had a serious talk, and she came to terms with my choice." Then the tattoo on the girl's body began to appear like mushrooms after rain. Today she has two tattoos on her face — snowflake and sprig. In total, her body was painted 15 different artists. "How many tattoos themselves, I'm not even going to tell you, lost count. The only place on the body without tattoo — back: I left her for a famous Moscow of being a tattooist, the work which will cost about 2 thousand dollars".
Steph called her friends, works as a stylist, hairstylist and model. "Basically I was invited by the designers for the filming of his lookbackon. It is now no longer enter orders for shooting commercials and music videos. One of the last videos for the group O. Torvald for the award Viva! Had often heard threats and unpleasant phrase, but today that happens very rarely. Sometimes on the subway will yield to the grandmother and she instead of gratitude crossed and overlaid them with bad words. But foreigners are not uncomfortable at all. By the way, the only person whose opinion for me was really important was my grandmother who raised me. When I was 14, my grandmother was diagnosed with "cancer 4-th degree". After chemotherapy, she was bald, and out of solidarity I, too, shaved head. Both bald, we walked through the village arm in arm, and the grandmother was not ashamed that she has no hair… she's taught me: "you Have to be hungry for life."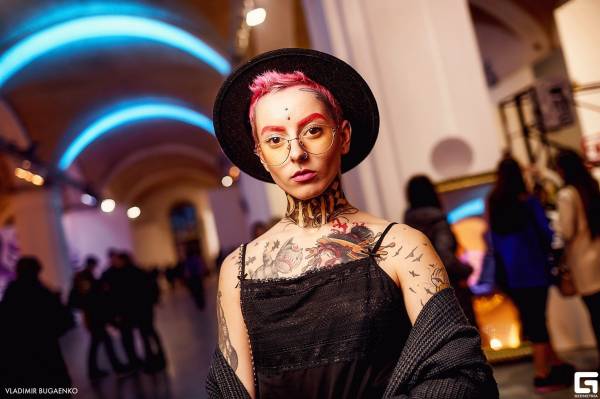 Racy Stephanie. Working as a stylist, hairstylist and model
FREAK-MODEL: PHOTO SHOOT FOR $400
32-year-old from Kiev Mar Kotova — alternative model (the fashion industry with an unusual appearance, or various modifications such as piercings, tattoos and other. — Ed.). The girl has multi — colored dreadlocks, cut language, Narodny fangs, the tunnels in the lobes of the ears and 10 punctures in different parts of the body, but there are no tattoos. Despite the latter fact, the girl is no stranger to the tattoo festivals: in fact to be a freak — her job. On average, Martha 2 photo shoots a week. The cost depends on the customer and ideas for filming: sometimes a photo shoot brings her $400, but less than 1, 5 thousand UAH Mar not working.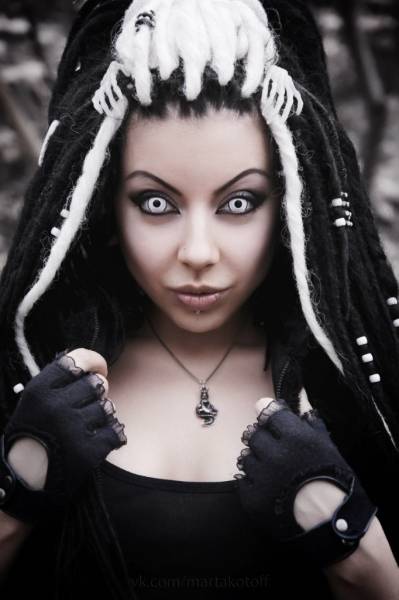 An alternative model Mar
"The preparation of the image takes more time than the filming, — the girl admits. Is the main consumer of these photos abroad, we have to this is just. My way started with… the piercing on the lip. In 2002, when I was 16, I really wanted to punch through the lip. Then it was very expensive, especially in a provincial town (I lived in Lugansk region.). Found the best salon, but the wizard twitched a hand, and the piercing turned out crooked. Because later perekolol lip itself. Since then, all piercings do myself. Parents never protested — only care that everything was sterile".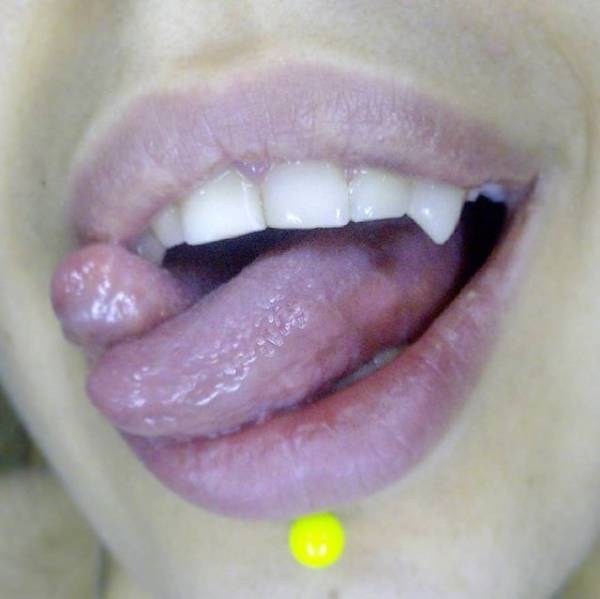 Increased the fangs, cut the language
In free from filming time she deals with sculpture, painting and design. "While sew clothes for themselves, says March. From the complex — tight corsets. Even create paintings from nails and thread. For the summer planning an exhibition". Mar likes original accessories, especially the glowing. She even dyed part of the hair in white color that glows at night.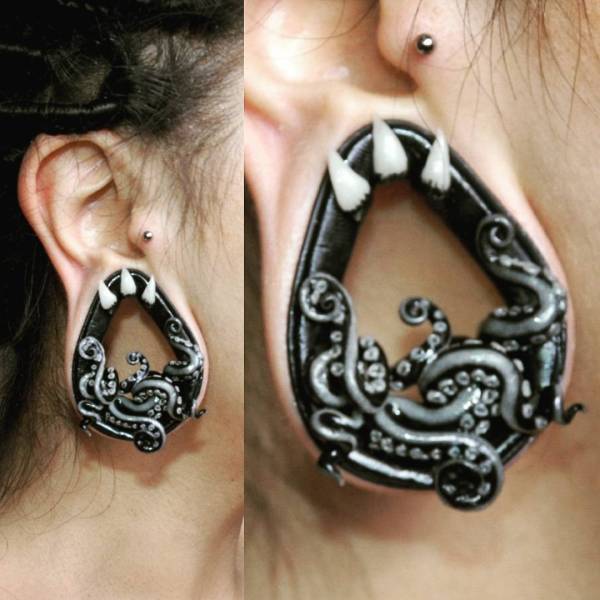 Tunnels in the ears and 10 punctures
A POET WITH EARS OF THE ELVES
"Assuage my hunger, will Eat your heat, will go through all the cold, Everything here is mine…" Imagine that these private poetry reading you people with eyes… demon. More than two years ago, 23-year-old resident of Ternopil Andrey Gorbatyuk tattooed on the eyeballs — completely filled them in black. He became the first in Ukraine a man with a similar tattoo. Andrew says that he likes to be not like others, so he is constantly experimenting with her body. It all started with the piercing. Then he cut in two the language, then lengthened the ears so like an elf, and glued the horns (intradermal microimplants creates a puncture through it in the sprout layer of the skin introduces the "anchor" with rod, and it wound decorations of various forms). The guy gradually complements the image of new tattoos. Mother of Andrew does not support.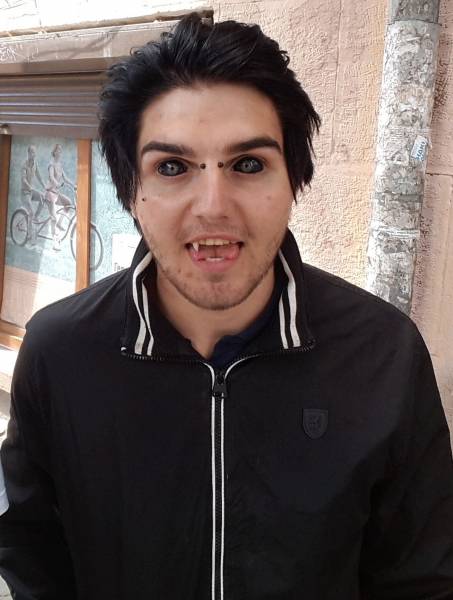 Andrew. Tattoo on eyeballs
LEGO TATTOO AND "BORED TUNNEL"
Almost all of the body of the inhabitant of Kiev Sergey Kachura covered with tattoos. Until recently he still had huge tunnels in his ears.
"Last winter was overlooked for the top and got frostbite, had nothing to do but to sew. Now, it turns out, if the pants and shirt in the street, that I am unremarkable, laughs 26-year-old boy. I miss the tunnels. Still, they were with me for eight years! You can of course roll out new tunnels, but I decided not to risk it. At first glance it seems that this is the usual holes in the ears, but really the tunnels require careful maintenance. Our body's not stupid — responds to them as a third-party object and trying to reject. For example, when I had 80th the size of the tunnels, lobe after sleep sometimes inflamed. And the tunnels of large size are hard to find, mostly they are made to order. You can not bother and order from the master wooden tunnels. But I ordered a very expensive, with precious stones. In Ukraine not so many people with huge tunnels, 20 people in the whole country. The tunnels I made in 17 years. I remember the master went with me mum. She didn't like, but she understood, I still do.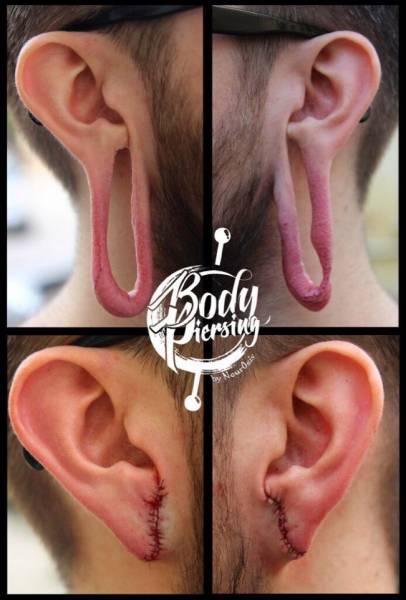 The tunnels had to sew up
First tattoo done at 18. It was two roses, a heart and ribbon. And then off we go. I don't even know how much I now have them. Completely clogged hands and feet, partial chest and abdomen. People react in different ways. When you come to the beach, considering me as a Museum piece. When the tunnels were, reached the point of absurdity: teenagers surreptitiously tried to take a picture, thought not see. One priest from a monastery in the mountains so cool said, "I don't care what you look like, most importantly your actions." By the way, after eight years, I strictly adhere to the three x's is a movement of Straight edge (eng. — "clear line". — Ed.): don't smoke, use alcohol or drugs. Even the rolls do not eat, because they have to taste add the brandy, and I immediately feel it."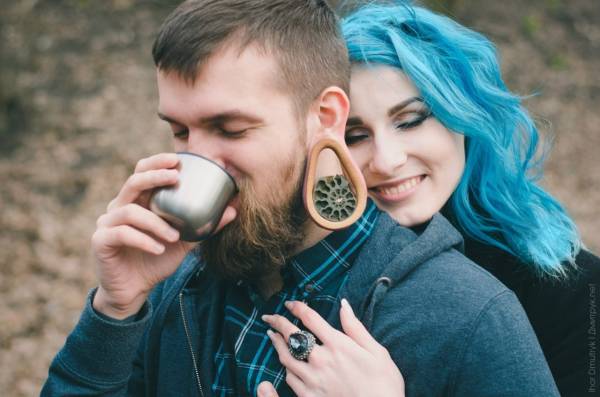 Unusual. Sergey Kachur loves tattoos and animals, collects action figures LEGO and for 8 years not drinking
The guy lives at home dog, spider, hamster, and two lizards. "I collect LEGO figures, — says Sergey. — I have a few hundred, there is even an exclusive. Me know the sellers of shops of children's toys. I even on the right foot got a tattoo of a LEGO figure. Once quarreled with the girl, so to make up, she bought me a figurine. Knows how to bribe!"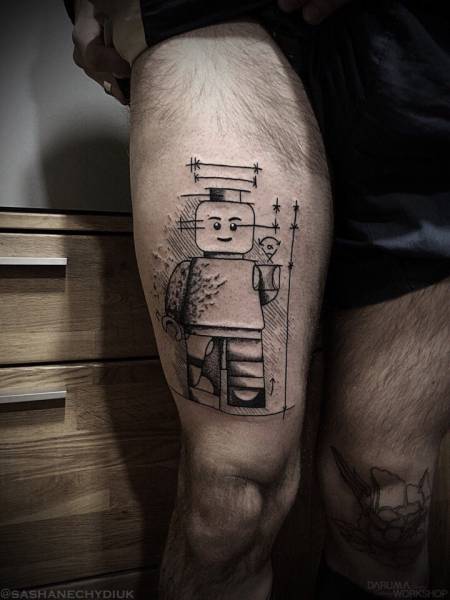 The love of LEGO has immortalized on his body
GURU PIERCING: "I DO NOT LIKE THE INFORMAL"
"It all started about 12 years though liked even earlier, — tells 19-year-old Anna from Kharkov Pushkinskaya. — With the advent of the Internet, I saw pictures of beautiful girls with unusual looks. At that time, was a very popular trash fashion (appeared under the influence of the eponymous musical direction in the style of "metal" and its extreme varieties. — Ed.). Plus was the then popular group Quest Рistols, the vocalist of which was with the dreads and piercings. Looked at him and thought: "Here I grow up — become the same." Today I have 32 of the puncture. Mostly face and ears, the body too, but not very much. All punctures were done myself. Tattoos I have five. Hair many times I have painted in all sorts of colors except bright yellow. This image was not formed at once that something was added, something was removed… Think right now my face it looks not very harmonious. Want more piercings, but that enumeration was not."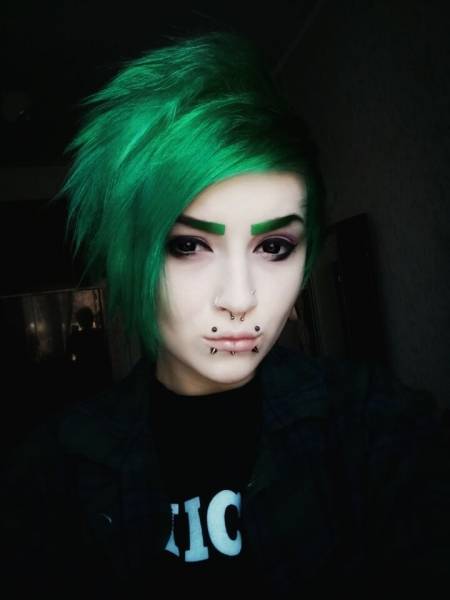 Anya Mayakovskaya. Painted in all possible colors, except bright yellow
Anya calls herself emo, though emo-party is not attending. "Do not digest nonconformists, as strange as it may sound — says Anna. — Stand out from the crowd and attract the attention I wanted at age 12, when I started to dye her hair and wear bright makeup. Then it just became a habit. Today I even imagine myself can not in another way. People often condemn me, than compliment. I used to hear insults and ridicule in his address, used for external views I was even attacked, even before the injuries came. Parents, too, have always reacted negatively. I often offer to do photo shoots. Recently was invited to the filming of the clip, but I don't like the song, because I refused".
Anna graduated from the art school, loves poetry. For two years working in a tattoo parlor. "Mostly people come to break the standard: ears, tongue, nose and navel. Something original ordering rare. Perhaps afraid of condemnation, because to stand out from the crowd — hard" — sure, Kharkov.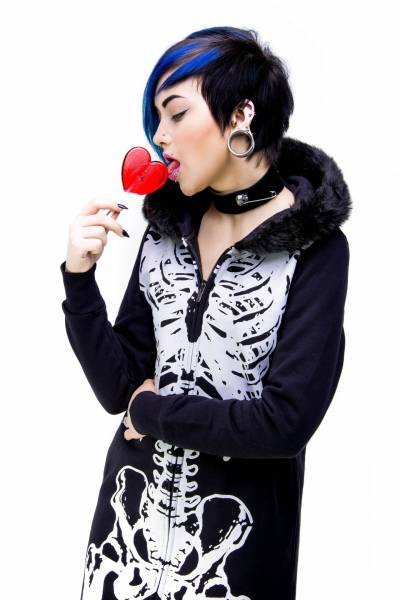 The girl-emo. Does not present itself in a different way
MUSICIAN: "SOMETIMES I WAS MISTAKEN FOR A PRIEST"
"The first time the hair began to grow in 14 years, then had their ears pierced. Nothing anyone wanted to prove, was just experimenting with looks, I liked it", — says the inhabitant of Kiev Andrey Sotnikov.
At that age the guy was fond of rock music, hanging out with hippies, punks, metalheads. In school his appearance no special attention is not paid, although Andrew even shaved bald. At 17, he dyed his hair with waterproof paints in dark blue colour. When he entered the University, already in the first year participated as a model in a hairdressing competition where his hair was lightened and colored tonics. According to Andrew, parents at first not very positive about his change in appearance.
"Now they are not really used to, but secretly hope it will be someday, their son will grow up and become a normal person, says 33-year-old Andrew. At the University I studied at the faculty of Economics, and the contingent was relevant. I probably looked like a black sheep compared to the rest of the students. I remember there was a case when early in the morning in the bus on the way to University one drunken man looking at me, said "Dude! You're doing great. I've always wanted! But the family, children, work… And you're not afraid to look how you look". Still some ask, "do you have dreadlocks? Why? Why?" And generally look I usually wear simple clothes, do not bother much on trends and fashion. Can wear a suit, odd trousers or t-shirts. But for the hair following. The structure of the hair is not very curly, it is necessary every few months to do the procedure podpletennaya dreadlocks. Strong problems with them — they are natural, out of my hair that are specially grown in three years. House wife periodically podplyvaet. But she doesn't really like is that the procedure requires time and effort."
After graduation guy worked 5 years in the Bank. "At that time I had long hair, nothing extraordinary, — says Andrey. Earrings took off, went in costume. In the evening he continued to make music. And when he resigned from the Bank, began to organize concerts, more music, experimenting with appearance. Then I lived in Lugansk, and the beginning of the ATO moved to the capital. Compared to Lugansk, there is calmer react to the appearance. In Lugansk such appearance — challenged, could and squeal on the head. Although to Express themselves in different ways. I think creative individuals are easier — they know how to live outside the box even in standard conditions."
Several times guy was a priest for long hair, beard and long black coat.
"In Odessa, for example, I had to bless the two drunken men, so they finally left me alone, — says Andrey. In Marinka near Donetsk grandmother when I was saying about gay pride parades. But overall the people are friendly".
Over the last couple of years in Kiev, Andrey worked as a bear, administrator of the training center, bartender at coworking spaces, the concert organizer, translator-interviewer on the demarcation line in the ATO area. Now working in the film industry, has its own group of RasSvet, which stands.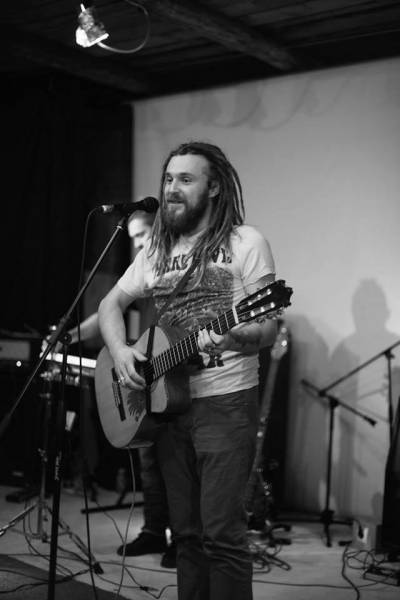 A musician RasSvet
Comments
comments