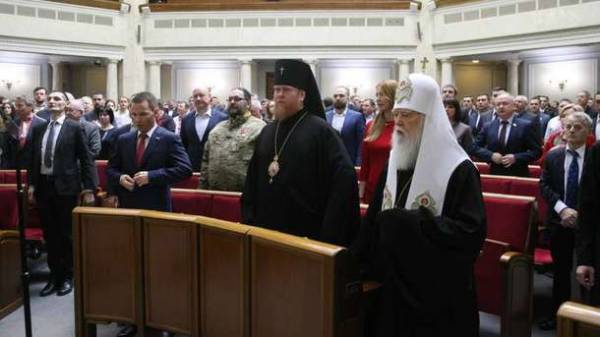 In the Verkhovna Rada a bill on amendments to the parliamentary Rules of procedure regarding reading the "our father" immediately after the opening plenary.
The authors of the legislative initiative by MPs Oksana Bilozir, Oleg bereziuk, head of Dubil, Yuri Miroshnichenko, Andrey Shipko, Nikolay Lavrik, Yuri Soloviev, Pavel Unguryan and Yuriy Pavlenko.
To read "our father" in @ua_parliament need for the line "Forgive us our debts" pic.twitter.com/q3jT52nHnk
— Andrew Bilyk (@bildrew) on July 14 2017 R.
On-Perche, TSE Garneau;)#Happy #Otchenash #MP #lie #mrakobes #rukalitso #Krasnaya #Verhovniy #relgovernance #buckles pic.twitter.com/Mm0OlKlnnm
— Iegor Shumikhin (@Zjoma) on July 14 2017 R.
Prayed Franz deputies
Muttered together", otchenash"
A z heaven dominate
"not yours".
Roman Kolyada
— Bob, Barabanenkov (@baraban040867) on July 14 2017 R.
Just rzhu s arguments, if the bill is about "Our father" prohodite Comet BP z of pitane sapana corupt.
— Taras Sarievski (@Pisarzhevskyi) on July 14 2017 R.
We will remind, the yesterday's meeting of Parliament lasted longer than usual and ended after 20:00. That managed to make the deputies read here.
As reported, the Verkhovna Rada decided on the work plan for the next session. So, deputies will begin September 5 and end on 2 February.
Comments
comments