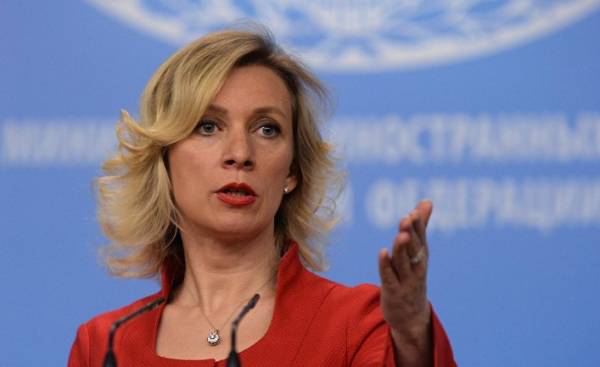 Moscow has threatened to expel the us diplomats and to seize diplomatic property, if Washington does not make concessions in the issue of last year's arrest of two Russian countryside diplomatic residences.
Maria Zakharova, representative of the Russian Ministry of foreign Affairs, said on Monday during talks in Washington between representatives of the foreign ministries of the two countries "will not move", Russia "will have to take retaliatory measures against the United States."
According to her, the number of employees of the U.S. Embassy can be reduced, a cottage and a warehouse used by the Embassy, was arrested.
Made on Friday warning indicates tension in the complex relationship between Moscow and Washington, despite the seemingly friendly meeting between Russian President Vladimir Putin and Donald trump last week.
Although the Kremlin welcomed the fact that the two leaders talked for more than two hours at the summit of "Big twenty", he's cautious watching the emergence of the sensational reports about the meeting of the son of the President of trump with the Russian lawyer, held during last year's election campaign in the United States.
In December, the administration of US President Barack Obama has deported 35 Russian diplomats who, it said were spies, and also closed access to two country residences in Maryland and on long island, used by the employees of the diplomatic missions of Russia. Washington called these measures a response to cyber attacks undertaken against the National Committee of the Democratic party and the election headquarters of Hillary Clinton, which, according to representatives of the intelligence community of the United States, were committed by Russia.
At the time, Vladimir Putin stated that he would abstain response, because he hoped that the tramp would show a more constructive approach to Russia. But it's been a few months since, as Donald trump won the presidency, and the improvement in bilateral relations began to seem less likely. And Moscow began to follow a different line.
As stated by the Russian authorities, the arrest of the Russian diplomatic property in the United States is a violation of the Vienna Convention. After last month the United States expanded its sanctions list to include several more Russian officials, Moscow has warned that its patience is wearing thin.
Deputy foreign Minister Sergei Ryabkov and U.S. Deputy Secretary of state Thomas Shannon (Thomas Shannon), who has been tasked with resolving the most acute problems in order to avoid further deterioration of relations, were supposed to meet to discuss diplomatic property last month. However, the negotiations were postponed to Monday.
According to Maria Zakharova, the previously scheduled meeting was postponed because the U.S. was not ready to dialogue. "We hope that now, after the summit in Hamburg on the seventh of July, the American side will show a constructive approach," she said.
Comments
comments