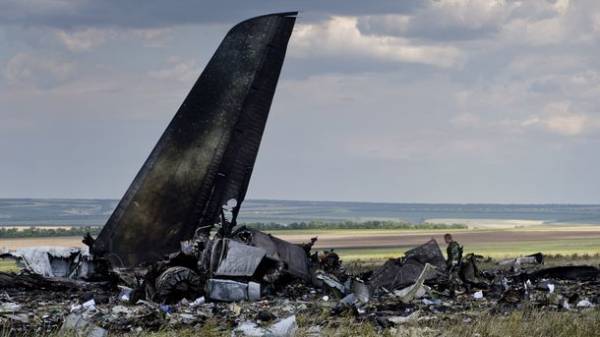 The Prosecutor's office opened, and then closed the criminal proceedings against the officers of the General staff of the Armed forces of Ukraine is about the death of 49 Ukrainian soldiers in aircraft Il-76 shot down in 2014 by militants at the airport in Lugansk.
This is stated in the answer of the Prosecutor General of Ukraine to a request for information to Radio Liberty.
According to the document, 21 June the investigative judge of the Pechersk district court of Kyiv its decision ordered the Main military Prosecutor's office of the Prosecutor General of Ukraine to amend the Unified register of pretrial investigations the information about the offence.
June 22 data were entered and opened the proceedings by paragraph 4 of article 426-1 of the Criminal code of Ukraine (abuse of official face of military power or authority committed in the context of the special period).
However, the General Prosecutor's office reported that article 426-1 were made to the criminal code of Ukraine in April 2015, hence, as of April – June 2014 it did not exist. According to Ukrainian legislation, the criminal law establishing criminal actions, has no retroactive effect in time, said the Prosecutor's office.
"In this regard, 12.07.2017 the specified criminal proceedings are closed", – is spoken in the answer of the Prosecutor General.
Earlier the lawyer of the Dnieper river Vitaliy Pogosyan, representing the interests of the families of the dead soldiers in a downed in June 2014 in the Lugansk airport Il-76, said that he had achieved the opening of criminal proceedings against the leaders of the ATO.
As reported then, information on the committing of a criminal offence was included in the Unified register of pretrial investigation under part 4 of article 426-1 of the Criminal code of Ukraine.
As reported, on March 27, pavlohrads'kyi court was convicted of negligent attitude to military service and sentenced to 7 years in prison, General Viktor Nazarov. The court decided that Nazarov, managing ATO in the Luhansk region, knew that the airport of Luhansk is surrounded and under enemy fire, but did not ensure proper coordination of departments.
14 Jun 2014 in the fall, militants shot down military transport aircraft Il-76 over the airport in Lugansk killed 49 people.
Comments
comments