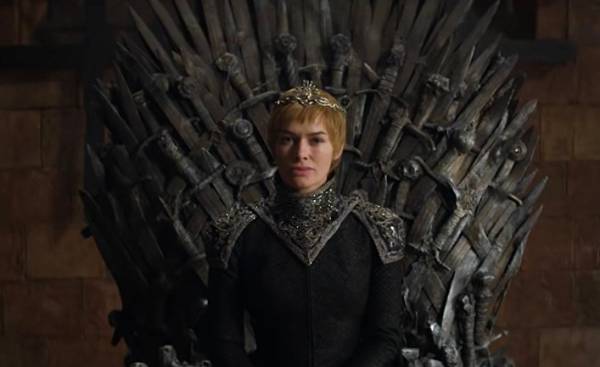 Belfast. At the docks, a few miles from the Museum of the Titanic and is the Studio the Paint Hall. It was there from the first season are domestic shooting "Game of thrones", the cult TV series of the HBO fantasy novels by American author George Martin. Before us is private chambers of the Lannisters, the house where she lived Aria hall with marble floors, frescoes and a majestic iron throne. Walls and other décor items on the check are empty inside, but outwardly look extremely realistic.
The Studio only allowed about ten representatives from the international press. About how to tell about the seen scenes, of course, cannot be considered. In between filming and makeup gorgeous sparkling white wig, Emilia Clarke (Emilia Clarke) still admits: "Daenerys is always very worried about what mark she will leave in the world. She strives to reach the heights of power and stay as clean as possible." As for the scenes in which she sits astride their favorite dragons, British actress joked: "everything is not glamorous. We shoot on a green background, and I think that I'm a ninja turtle in a Rodeo! You have to put insurance, not to break your back…"
Tommy Dunne (Tommy Dunne), who in the past has had a chance to work on "Braveheart" and "Gladiator", in charge of the weapons shop, which employs seven people. There are hundreds of items that are intended for different locations (Spain, Iceland, Croatia…) and saved over the years. There we see the famous "Needle" Aria, which is a precaution made in two copies. Swords "white walkers" is made of transparent resin and really resemble ice. The hardest part was to create them. "We don't use plastic and prefer him bronze and wood, explains Tommy Dunn. It is important, that all seemed most plausible to the actors was the feeling of the weapon in his hand. In addition, it attracts their attention to security matters."
His shop works with the costume Department, which employs from 80 to 120 artisans. The design is developed here, however, tailoring takes place in Italy, Spain, Bulgaria and India. Then they age the tissue, creating a scuff or faded area, were doing their color in the special tanks… Storage of costumes requires careful organization. "All numbered and broken down by categories, because the first part of the scene can be in one place and another in a completely different two months later," says one of the costumers. Clothing is maintained even after the death of the character and can be used later, for example, for extras. There are about 300 major suits, whether the actors are any special requirements? "Macy Williams (Maisie Williams, who plays Aria stark) was very glad to finally be able to wear the dress after the entire seasons in the same tunic!" — remember staff.
Relaxed atmosphere
The most interesting in the accessories Department. It is adjacent to each other created an incredible array of disparate objects here: a beautiful collection of stuffed birds (gulls, pheasants and of course, crows), spiders, miniature dragons, carts, charred body impaled on spikes head, crushed fingers, a fake baby… Enough here and old items that have been purchased in London or Portugal: silver cups, baskets… All this fancy gear should be functional (not always easy for a torture tool!), that requires a number of checks for each scene.
40 miles from Belfast in the Irish Outback is a smaller Studio, where they filmed scenes from Winterfell, the stark stronghold of the rebel. Here the atmosphere is more relaxed. At the entrance of the colorful group of wildlings stopped for a smoke. They are joined by their ally and the former commander of the Night's watch kit Harington (Kit Harington), taking from the boot the iPhone. "This role will no doubt remain the most important in my life,' he says, thinking about scheduled for next year the end of the series. — Jon snow is very close to me. His surroundings became a real family, I will miss him". Whatever it was, he hoped to grab a souvenir: "I have a dream to take the sword. But given the success of the series, he definitely will be in the Museum room. I hope I'll at least give you a copy."
Comments
comments