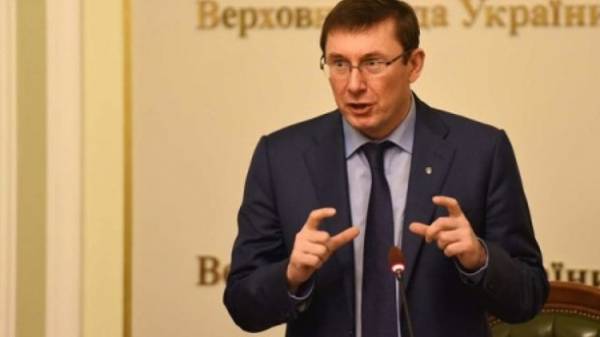 The Prosecutor General of Ukraine Yuriy Lutsenko called on people's deputies Maksym Polyakov and Borislav Rosenblatt after the vote on the removal of inviolability from the people's Deputy Mikhail Dobkin to go to the office of the chief of staff of the Verkhovna Rada to present their suspicion, as they did not appear at 14.30 in the Prosecutor's office for implementation of this procedure. About this Lutsenko said, answering from the parliamentary rostrum on a replica of the Polyakov that the case against him is politically motivated and not supported by evidence and is already falling apart.
See also: Sweatpants and sneakers: Dobkin took in Parliament, "alarming suitcase"
"Mr. Polyakov, today You were invited to 14.30 in the Prosecutor's office for presentation suspicions. I understand that today is a busy day in Parliament, and therefore I beg You and Mr. Rosenblatt at the conclusion of the vote (according to Dobkin) to go to the office of the chief of staff, where I will hand you a suspicion," – said Lutsenko and added: "then it will be easier to communicate with the investigation."
As you know, MPs Maxim Polyakov and Boryslav Rozenblat did not come to the Prosecutor General of Ukraine to receive the notification about suspicions. It is worth noting that today at 14:30 General Prosecutor of Ukraine Yury Lutsenko planned to give MPs the message on suspicion, but they are on call did not come. Probably the reason for their absence is the denial of a building lying to the protesters.
Comments
comments