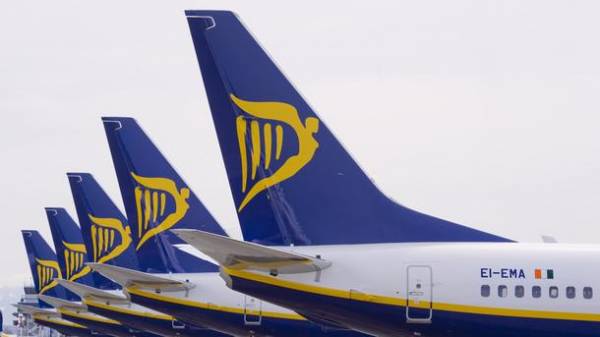 International airport "Borispol" Salil that the negotiations with Ryanair were doomed to failure, but ready for the audit negotiation process. This is stated in an official statement, state-owned enterprises.
"Airport "Boryspil" is ready to any audit of the negotiation process with the airline Ryanair in terms of economic feasibility, rationality of the position of the airport administration, legal correctness and non-discrimination of other contractors of the airport with positions of the legislation on protection of economic competition", – said in a statement.
As stated in "Borispol" in the beginning of the negotiations, the airport warned that it is impossible to meet all financial expectations Ryanair because of the peculiarities of the Ukrainian legislation and the conflict model low-cost airport and kubovogo the airport is Boryspil.
In "Borispol" said also, made suggestions and did the "steps forward" that the airline was able to go to the airport.
"On our part to meet the requirements of Ryanair deliberately reduced rate passenger fee of $ 17 to $ 13 for all airlines, what is the shortfall each year, 360 million UAH", – notes "Borispol".
At the same time, according to a statement from the airport, Ryanair was opposed to co-investment in a new direction by providing 80% discounts granted "only in the case of a guarantee from the airline to increase passenger traffic on this direction and increase the geography of flights".
"In addition, the airport will not be able to fix the fee for passengers of the airline Ryanair at 7.5$, since it is dependent on ensuring and increasing passenger traffic on this direction. This position proved unacceptable to the representatives of the airline", – noted in "Borispol".
"The negotiations between Ryanair and the airport "Borispol" on financial issues was doomed from the moment of fixation rates in the amount of $ 7.5, which is reflected in the Memorandum between the Ministry of infrastructure and the management of the airline. This rate of "Borispol" was not agreed", – summed up at the airport after a meeting with the Prime Minister.
In "Borispol" noted that the terms of the incentive program available to all interested airlines airport need them to guarantee the expansion of geography of flights (new routes) and capacity passenger traffic for the grace period.
Recall that Ryanair considers that "Borispol" has violated the agreementreached in March this year, the Ministry of Infrastructure with airport officials.
"We regret that the airport in Kyiv showed that Ukraine is not yet sufficiently Mature or reliable place to invest powerful fleet Ryanair", – commented on the decision of the chief commercial officer (CCO) Ryanair David O'brien (David O'brien).
The Director of"Borispol" refused to sign the agreement with the Irish airline because of the excessive demands of the air carrier, that violated the law. The Minister of infrastructure Vladimir Omelian already declared intention to dismiss the General Director of the airport "Borispol" Paul Ryabikina for the failure of the contract.
Comments
comments