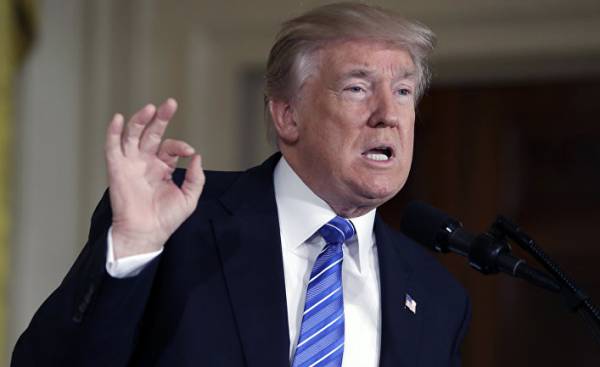 Republicans have criticized Donald trump after he spoke about the discussion with Vladimir Putin plan for the establishment of a working group on cybersecurity.
After a meeting on Friday with Russian President trump on his Twitter page wrote that it was time to work constructively with Moscow, indicating the agreement on ceasefire in the South-Western part of Syria, which came into force on Sunday. "Putin and I discussed a question on creation of the independent panel on cyber security to prevent hacker attacks on elections, as well as many other negative things, thereby ensuring security in this region," said trump after their talks at the G20 summit in Hamburg, Germany.
Three senators-Republican Lindsey Graham of South California, John McCain of Arizona and Marco Rubio of Florida criticized this idea, stressing that Moscow cannot be trusted after her alleged interference in the American elections in 2016.
"It's not the most stupid idea I ever heard, but very close to it," said Graham, speaking in the "meet the press" (Meet the Press) NBC TV. According to Senator Graham, the obvious desire trump "forgive and forget" strengthens his resolve to adopt the law on introduction of sanctions against Russia.
"There was no punishment, — said in the program "face the Nation" (Face the Nation) McCain, who heads the Senate Committee on armed forces (quoted on the basis of transcripts of CBS). "Vladimir Putin… came out unscathed after he literally tried to change the results of our elections."
"Yes, it is time to move forward. But there is a price to be paid", — he added.
And here is what he wrote on Twitter Rubio: "to Establish a partnership with Putin in the framework of the "group on cyber security" that is to establish a partnership with (Syrian President Bashar) al-Assad within the group of "chemical weapons".
In response to voiced criticism, trump, apparently, is trying to distance himself from his own ideas. In his message on Twitter, he seems to suggests that the establishment of a group on cyber security, in fact, may never happen.
Trump spoke in support of rapprochement with Moscow during his election campaign, but he can't do that, because his administration under investigation for allegations of Russian interference in the elections and Russian ties members of his campaign team.
Special adviser Robert Mueller (Robert Mueller) is conducting an investigation of the charges, including the question of whether there was any collusion with members of the electoral headquarters of the trump. In addition, investigation is carried out by some congressional committees, including the Committee on intelligence of the house of representatives and the Senate.
These investigations focused almost exclusively on the actions of Moscow, state legislators and staff of the intelligence agencies, however, have not yet been made public any evidence in relation to other countries, despite the assumption of trump that other countries could also be involved.
Moscow denies any interference, whereas trump claims that members of his election team had not been in collusion with Russia.
A member of the house of representatives Adam Schiff (Adam Schiff), the most influential member of the Democratic party in the intelligence Committee of the lower house of Congress, speaking in the CNN "On the situation in the country" (State of the Union), said that Russia cannot be a credible partner in the group on cybersecurity. "If this is the best way to protect our elections, then we might as well just send to Moscow our ballot boxes," added Schiff.
Nikki Haley (Nikki Haley), permanent representative of the United States to the UN, defended this step. In her view, working with Russia in the field of cybersecurity "does not mean that we do trust Russia".
"We can't trust Russia, and we will never trust Russia. However, you should keep close to you those you do not trust. It is necessary to constantly observe them and control them."
"Everyone knows that Russia interfered in our elections," she said, obviously contradicting thus to the President.
Trump said on Twitter that he was "twice in a rigid form asked the Russian President relative to interference in our elections. Putin is categorically denied".
Article prepared by the editorial staff of the newspaper the Guardian, using materials of news agencies.
Comments
comments