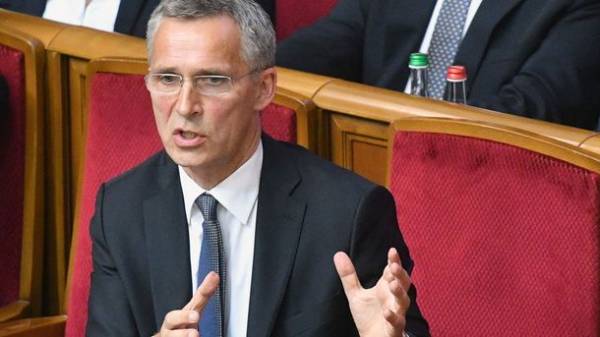 NATO will monitor the military of the Russian-Belarusian exercises "West", which is scheduled for September of this year. This was stated by NATO Secretary General Jens Stoltenberg, reports channel "112 Ukraine"
"We will observe the teachings of the "West". All countries have the right to train its Armed forces, but for us it is important that it was predictable and in accordance with international obligations, in particular, signed at Vienna documents. This agreement, which, in particular, Russia has agreed on a transparent monitoring of large-scale military exercises. We call on Russia to respect the Vienna agreement, to contribute, to comply with the transparency and predictability of military exercises. NATO now sees no direct military threat to any of the countries participating in the Alliance," he said.
In addition, the NATO Secretary General added that Russia must withdraw its military and to influence the militants.
"What we see is Russia is responsible for the aggressive actions against Ukraine, annexing Crimea and destabilizing Eastern Ukraine. And we call on Russia to withdraw all its forces from there. In Eastern Ukraine are thousands of Russian soldiers, they should be set aside. And Russia must use its influence on militants to ensure the full implementation of the Minsk agreements," Stoltenberg concluded.
Exercises "West–2017" joint strategic exercises of the Armed forces of the Russian Federation and the Republic of Belarus, scheduled for September 14-20, 2017. According to preliminary data, in the teaching participation of up to 13 thousand. NSDC Secretary Oleksandr Turchynov said that Russian-Belarusian joint exercises can be a preparation for offensive operations. Later, the President of Belarus Alexander Lukashenko assured the President of Ukraine Petro Poroshenko that the exercises "West-2017" will not turn into training for the invasion of Ukraine.
Comments
comments