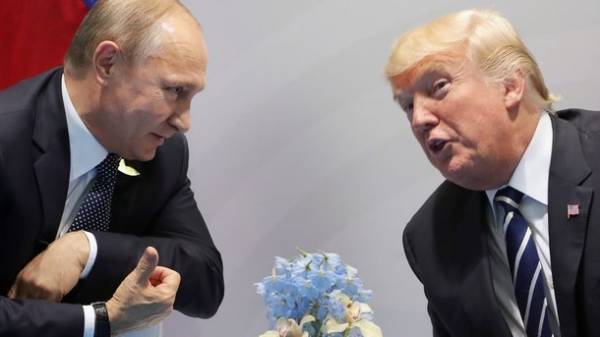 U.S. President Donald trump during talks with Russian leader Vladimir Putin at the summit of "Big twenty" in Germany emotionally discussed the issue of Russian interference in American elections. About this he wrote on Twitter.
He noted that he defended his opinion, which does not agree with the Russian leader.
"I twice kept on pushing President Putin about Russia's interference in our elections. He vehemently denied. I have my own opinion on this matter," wrote trump.
I strongly pressed twice President Putin about Russian meddling in our election. He vehemently denied it. I've already given my opinion…..
— Donald J. Trump (@realDonaldTrump) on July 9 2017 R.
In addition, the leaders of the United States and Russia discussed the question of how to protect themselves from cyber attacks.
"We Putin discussed the creation of impervious units of cybersecurity, in order to effectively prevent hacking of the electoral system, and many other negative things," said the US President.
Putin & I discussed forming an impenetrable Cyber Security unit so that election hacking, & many other negative things, will be guarded..
— Donald J. Trump (@realDonaldTrump) on July 9 2017 R.
As reported by the American media, between Donald trump and Vladimir Putin has been talking tough during the closed-door talks at the G20 summit.
At the same time, Putin himself said that he was able to establish relations with the U.S. President and hoped for the necessary interactions.
Comments
comments