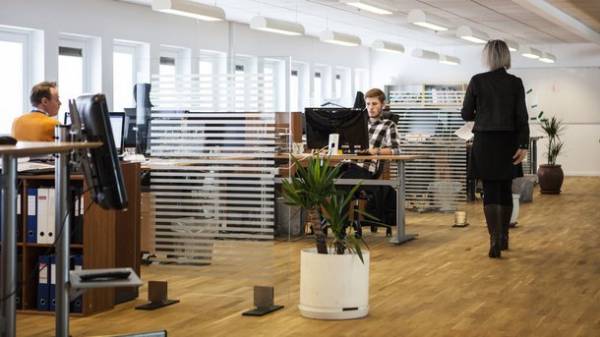 The employer becomes closer to the employee: he is willing to accept and even to solve his personal problems, and to create a work of inconceivable 20 years ago comfort. If before particular benefits could boast only selected companies with international capital, today many reputable companies vying for the quality of work.
In connection with the economic growth of the Ukrainian labor market is experiencing a shortage of professionals, and in recent years they have become increasingly employers dictate their will, explains the expert of the labour market and development Director Work.ua Sergei Marchenko. HR managers noted a decline in the interest of applicants to their vacancies. Far-sighted employers understand that retention is much easier than finding new ones. So try as possible to do the work in their companies interesting and easy.
IN THE OFFICE: POPCORN, MASSAGE AND YOGA
"Then all of the way advanced IT company. They have long been considered standard sports equipment and lounge areas in offices, where employees can relieve your mind, — said Marchenko. — No dress code, unlimited tea, coffee and snacks, half day on Friday or work from home — here is a partial list of what is in IT-companies are already not regarded as an indulgence and is considered a prerequisite for attracting and retaining employees."
Other companies carefully and gradually, but also introduce one indulgence after another: now, for example, almost all offices have water coolers, although 10 years ago it seemed a great luxury. Often companies offer flexible: for example, to work 8 hours between 7:00 to 20:00 in staff time. Widespread health insurance, which in the most advanced companies extend even to family members.
The portal rabota.ua recently conducted a survey on the topic of "diligence" by employers, says HR expert Tatyana Pashkina.
"Almost half of the respondents have the opportunity to work flexible hours, including remotely. Pretty common relaxation areas, showers and bike racks (as support healthy lifestyles), explains Pashkina. — 7% of the companies even pay the sport its employees".
47% offer free coffee/tea, every fourth employer pays for the mobile communications of their employees. 15% scored in the provision of mobile phone and medical insurance, further on prevalence, purchase of specialized literature, Lunches, and transportation. Very surprised office popcorn machine, massage and yoga, is recognized Pashkina.
PERSONAL EXPERIENCE. "I myself in the early 2000s, worked in a company selling copy machines. And there were very progressive for the time schedule: on Friday you work without lunch, but away from work in 14 hours, — says the expert. — In fact, in most of the offices on Friday afternoon and the situation outside. Our employer is subtly caught it and the staff were grateful and worked even half a day, but on the conscience. In return, received almost three-day weekend: it was a very good win-win strategy".
So Nehoda
In the afternoon. Very convenient: from the dining room — just football
"BUNS" OF THE EMPLOYER
"The issue of recruitment for "McDonald's" is always topical, — says senior consultant of the HR Department of the company "McDonalds" in Ukraine Sergey nevmerzhitskiy. — In a special section "Questions and answers" on the corporate website of the company people who are interested in jobs, can calculate the possible income, given their capacity and immediately submit an electronic application form for employment".
The company also has a program "Working together", which gives the opportunity to work with friends: it provides a reward to employees, if friends at their invitation join the team. Over the past year the number of employees who joined McDonald's in this program, increased more than 2 times. This creates a atmosphere in which people want to work together. And in the summer of 2016 two children of employees of "MacDonalds" on a competitive basis were selected to participate in the international program of the company "Carry player". Through this program, they visited the European championship in soccer in France and brought on the players of the national team of Ukraine.
CONTESTS WITH PRIZES. In "Kyivstar", the long running project "Virtual office" – employees whose prefdialog does not require 100% of stay in office, can day per week to work remotely, says Irina Lelichenko, a specialist public relations company. These are 40% of full-time employees. "As a result of observed increasing productivity, optimizing costs and increasing the loyalty of talented personnel.
"Remote" employees can perform more tasks and more involved in the work process," she says.
For those who are in the office travels regularly, there are bike racks and rest areas. The company supports the desire of staff to lead a healthy lifestyle pays the rent of the hall for football training, organizing competitions between athletes of different departments. "Constellation Kyivstar" is a contest to determine the best employees of the year.
"It allows you to collect reviews about the people — they can be used for the development of talent, explains, Lelichenko. — The winners will receive the honorary title of "Best employee of the year", a commemorative statuette and a prize." Separately encouraged sellers: for them there is a separate program of motivation, prizes quarterly.
IN THE WORLD TO BE SLAVES
A GLASS OR TWO. A place to sleep in the office yesterday. Today there are employers who recognize: a glass of whiskey or beer with some increases efficiency and the ability to be creative. So allow employees to drink on Fridays, put beer vending machines or allow access to bars.
THE FUTURE MOTHER. Facebook, Apple and Spotify first came up with to include in the standard benefits package employees specific bonus to attract more women: egg freezing. So the work is not in place, and fertility is not suffering — the female part of the staff is in no hurry to sacrifice career for fear of ticking biological hours.
ERRAND. That employees are not distracted by shopping and Hiking in the mail, give them personal assistants to solve everyday problems. So, the Concierge service for combining work and personal activities is already established SC Johnson & Son, Accenture, Hyatt Hotels and Nordstrom. The package of services from dry cleaning to travel.
Comments
comments