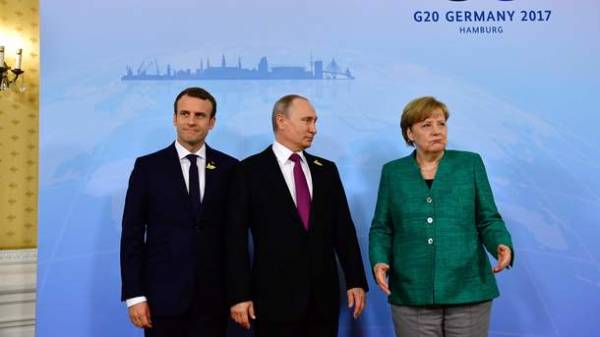 The leaders of France, Germany and Russia reaffirmed the importance of observing the ceasefire in the East of Ukraine, reports Reuters with reference to the representative of the Cabinet of Germany.
Earlier it was reported that in Hamburg at the "Atlantic" began the meeting of German Chancellor Angela Merkel, French President Emmanuel Macron and Russian leader Vladimir Putin. It was expected that they will discuss the problems of the "twenty", topical issues of the international agenda with a focus on resolving the situation in Ukraine.
However, the Russian foreign Minister Sergey Lavrov said that Moscow and Washington have agreed to establish a communication channel to promote the settlement of the situation in Ukraine.
According to the Minister, the channel "between the representative of the Russian Federation and the representative of the United States" need to move towards the resolution of the Ukrainian conflict on the basis of the Minsk agreements, and "based on the potential that lies in the contact group and in the "channel format".
According to the latest UN victims of the conflict in the Donbas were more than 10 thousand people.
The settlement of the situation in the Donbass is discussed, including during meetings in Minsk the contact group, which from September 2014 adopted three documents regulating the steps to de-escalate the conflict. However, after the armistice agreements continued shooting.
Comments
comments