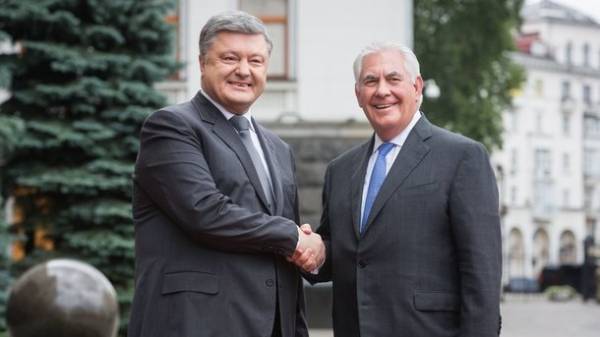 In the presidential Administration on Bankova began the private personal meeting of the Ukrainian President Petro Poroshenko and U.S. Secretary Rex Tillerson.
"President holds talks tete-a-tete with U.S. Secretary of state Tillerson. Further, the talks in expanded format", – wrote press Secretary of the President of Ukraine Svyatoslav Tsegolko on Twitter.
The President to conduct negotiations tete-a-tete W driscreen USA Tillerson. Further negotiations in rozsirenia skladi. pic.twitter.com/EauWtSFV44
— Svyatoslav Tsegolko (@STsegolko) 9 Jul 2017
As previously reported in the state Department, during a meeting with Poroshenko Tillerson again confirms the U.S. commitment to the sovereignty and territorial integrity of Ukraine, called upon the government of Ukraine to continue implementing reforms aimed at strengthening economic, political and military stability of Ukraine.
Comments
comments