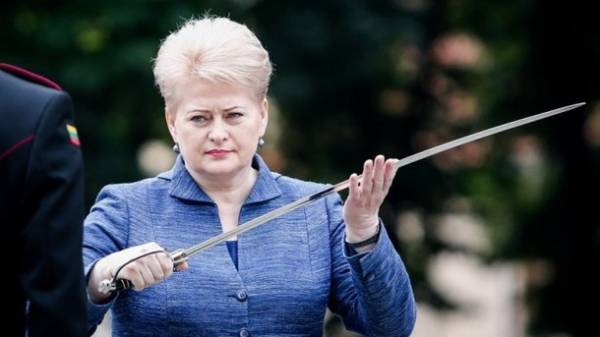 The President of Lithuania Dalia Grybauskaite said that the meeting in Warsaw the leader of the USA of Donald trump and the heads of the countries of Central and Eastern Europe, she raised the issue of regional security and the threat of the Belarusian nuclear power plant (Belarusian NPP) and the "Nord stream – 2".
"Today in Warsaw there was a reason another reason to talk to all the Eastern Europeans and leaders in our region to meet and to Express their opinions to US President Trump. We have already voiced him once in Brussels and now have another good reason to show and explain our specificity, our threats are and what we are expecting from US," said Grybauskaite.
According to the Lithuanian leader, the US is now heard not only promises, but real things are visible in the sphere of regional security.
"We clearly hear not only the assurances in the security field, but to see concrete results. This is an increase of 40% of the budget of deterrence on its Eastern flank. We see the deployment of the American army in Lithuania and in the Baltic countries. We hear and know that will increase the contingent in our countries during the exercise "West 2017", – said Grybauskaite.
In the message of administration of the President of Lithuania says that the head of Lithuania at the meeting with the presidents of the countries of Central and Eastern Europe with trump on Thursday stressed the importance of regional security.
According to the President of Lithuania, an active U.S. role is fundamental to the security of the whole Europe.
"In clashes with the military and non-conventional military threat to Russia, the world's most powerful countries – the United States, and in advance deployed in the region of electronics are the best deterrent. The head of state noted that the contribution of America is necessary in the provision of regional air defense", – said the press service of the President of Lithuania.
Grybauskaite met with the heads of 12 countries of the region, located off the coast of the Adriatic, Baltic and Black seas, also expressed concern over the security threat to the NPP, which is being built near Lithuanian capital Vilnius.
"The head of Lithuania also drew attention of the U.S. President and other heads of countries that Rosatom is building an unsafe nuclear power plant in Ostrovets, polluting emissions which, in the event of an accident, can reach 16 capitals of Europe, and the gas pipeline "Nord stream – 2″ can be used by Russia as a weapon of non-conventional blackmail" – said in the message.
We will remind, head the Ministry of foreign Affairs of Poland Witold Waszczykowski said that trump had hoped to improve relations with the Russian Federation, but now the American President is gradually changing the position in the direction of the Republican mainstream, which considers Russia as a geopolitical opponent of America.
Comments
comments