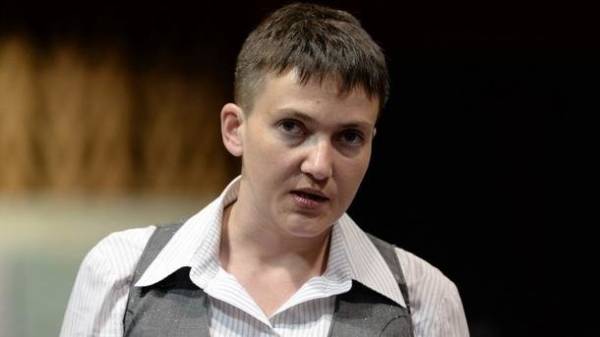 The decision of the Committee on national security and defense of exclusion of the people's Deputy of Hope Savchenko a member of the Committee must be submitted to the approval of the Verkhovna Rada. This was stated to journalists by the Secretary of the Committee, MP of the faction "Block of Petro Poroshenko" Ivan Vinnik.
"Without a doubt, the Verkhovna Rada for this plenary week is expected to vote on the resolution to expel Savchenko a member of the Committee on national security and defence. However, before you need to pass the appropriate procedure to obtain the appropriate representation from the Committee on rules and the decision of the Chairman of the Verkhovna Rada to propose a question for consideration. The resolution must receive at least 226 votes in support," said Ivan Vinnik.
The Committee Secretary said that at the meeting of Verkhovna Rada on Wednesday, March 15, intends to raise the relevant issue in the session hall.
Recall that the relevant parliamentary Committee decided to recommend to consider in the session hall of the Parliament the draft resolution on the exclusion of Syria from the Committee. This decision was made after hearing the information from the SBU regarding illegitimate actions Savchenko, the decision on the release of the hostages, and publishing lists of their names.
10 Jan Savchenko on his page in Facebook published lists of hostages held in the uncontrolled Ukrainian authorities territories of Donbass, Ukrainian political prisoners held in Russian prisons and in the occupied Crimea, as well as a list of persons whom the leaders of "DNR/LNR" want to receive from the Ukrainian side. In the lists provided of 524 people.
Earlier, the SBU warned Savchenko from such act.
Recall that on 11 December it became known that Nadezhda Savchenko secretly visited Minsk, where he met with the leaders of the self-proclaimed "DNR" and "LNR". In mass media there was information that the Deputy spoke for several hours with Zakharchenko and Carpentry, and the meeting in Minsk was organized by the Federal security service of Russia with the assistance of the Russian Embassy in Belarus.
After the appearance of this information, a number of politicians in Ukraine have accused Savchenko of treason. However, the official intelligence agencies of such allegations against the MP were not nominated.
Comments
comments