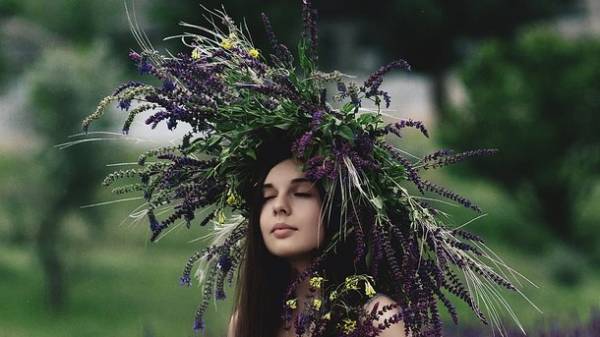 Today, on the night of 6 to 7 July is celebrated the ancient holiday of the Eastern Slavs Midsummer. This holiday is rich in customs and traditions. Perhaps the most popular is throwing a wreath into the water.
To put a wreath and thus to tell fortunes at her spouse-costumed, care must be taken to weave this attribute of the holiday with their hands out flowers.
Midsummer is traditionally wove a wreath of grass Ivan-da-Marya, bogoroditskaya grass bearish ear and burdock. Today wreaths more weave to be attached to the summer beauty of the holiday season, not respecting the composition of herbs, notes ivona.bigmir.net.
See also: Midsummer-2017: the rituals and traditions of the holiday
To weave the wreath, you'll need fresh flowers with long, flexible stems. Suitable daisies, dandelions, cornflowers, clover, etc. should Not break off the leaves – they will give the crown volume. Very nice wreath look berries (with stems).
We put together two stalks of flower or combine in a bundle of some of the largest flowers. Take the next flower and wrapped around its stem. Every next flower woven more densely, closer to the previous one. Continue to add flowers and berries, while a wreath will not fit the circumference of your head.
See also Midsummer-2017: divination, rituals and predictions
Connect the ends of the wreath together. Woven all the ends of the stems in the wreath base. You can link the junction of the grass or tree bark.
During the celebration of Ivan Kupala, the girls were lowered wreaths into the water and watched what would happen to him if he will drown the girl will not marry this year; if they sailed from the coast — the groom walks very close.
Earlier Today figured out what you can and cannot do on Midsummer.
Comments
comments