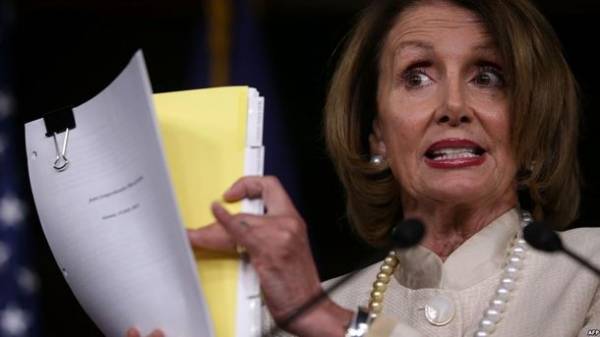 The Federal Bureau of investigation (FBI) must investigate when the President of the USA of Donald trump and his entourage with Russia, said the leader of the democratic minority in the house of representatives, Nancy Pelosi.
"We urged the FBI to investigate the financial, personal and political ties Donald trump and his administration with the Russians," she said Wednesday at a press conference on Capitol hill.
In addition, the MP considers it necessary to create an external independent Commission, which would investigate the expected interaction with the Russian intelligence people working on the campaign of trump.
"Our President flirts with danger," says Pelosi.
So, in her words, "it is a matter of national importance."
Yesterday, the newspaper "the Washington times" reported that the leader of the democratic minority in the house of representatives, Nancy Pelosi called on the FBI to expedite the investigation of possible links between President Donald trump and Russia.
"The FBI should accelerate the investigation of relations between Russia and the administration (of US President Donald – ed.) trump. The U.S. Congress should convene an independent Commission, consisting of representatives of both parties, for a comprehensive investigation about the influence of Russia in the U.S. administration and the elections," she said.
Earlier it was reported that the US presidential Advisor on national security, Michael Flynn resigned from his post after it was discovered that he gave incomplete information to the Vice President Mike Pence and other senior officials about their conversations with the Russian Ambassador to the United States Sergei Kislyak.
Earlier, the democratic Senate ed Measurements and Chris Murphy called for an investigation into the content of the telephone conversations of the adviser to the President for national security Ambassador of the Russian Federation. In particular, senators interested in the question, were there discussions in the interviews issues concerning the us sanctions against Russia. According to both senators, since the conversation took place before the inauguration of trump, Flynn, had not yet held official positions, were not allowed to discuss these issues with foreign diplomats.
Comments
comments