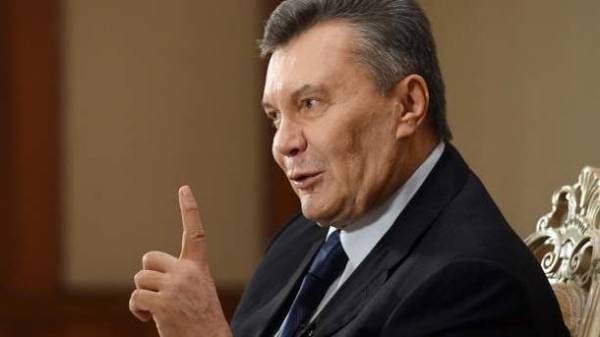 A meeting of the Obolon district court of Kiev on charges of treason, ex-President of Ukraine Viktor Yanukovych lasted "record" 10 minutes, "Correspondent"reports.
The judges only managed to hear a videootryvke interview ex-guarantor, where he declares the refusal to participate in the hearing.
After that, the Prosecutor's office petitioned to grant Yanukovych a free defender. In the result, the judge decided to postpone the court session on July 12, and will be considered when the question of granting him a lawyer.
Recall, June 29 Obolon district court of Kyiv has given approval for the conduct of judicial proceedings especially in the case of treason, ex-President Viktor Yanukovych.
As you know, 14 March the Military Prosecutor's office sent to court indictment against Yanukovych. According to the PGO, he is suspected of committing crimes under part 1 of article 111 ("high treason"), part 5 article 27, part 3 of article 110 ("Complicity in deliberate acts committed with the aim of changing the boundaries of the territory and the state border of Ukraine") and part 5 article 27, part 2 of article 437 ("complicity in the waging of aggressive war") the criminal code of Ukraine.
Comments
comments